After watching the White Collar season premiere on a pier, under the stars in New York City last week, I was lucky enough to visit the set and get to talk to its charming and talented cast.
Most of the day was spent on the rooftop of a parking structure where stars Matt Bomer, Tim DeKay and Willie Garson were filming several scenes for episode eight this season. 
The intense wind played havoc with the set, and also masked the sunburn I was unknowingly receiving, but it was all worth it when I turned around and came face to face with the handsome DeKay. "What has you up here on this roof,"  he quipped good-naturedly.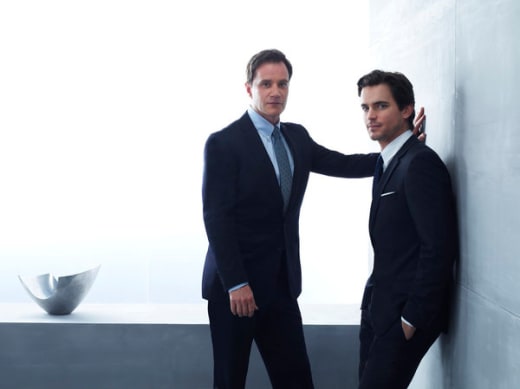 Since the season three premiere has yet to air, I won't give away any spoilers here, but Tim was happy to talk about what attracted him to his character, FBI Agent Peter Burke, along White Collar as a series.
"It's going to sound corny, but there was a warmth between Peter and Neal and a humor that I thought was very, very interesting and unique. It's great because you have two guys who are obviously on different sides of the track but you know they'd jump in front of a bullet for the other and I like that. I liked seeing a reluctance to care about one another and that was like that from the beginning."
Bomer readily agreed about the character chemistry that sells this show, telling me:
"I love Tim. The first time I read with him it felt really easy and fun. I knew that this was going to be someone that I was going to spend a lot of time with so the fact that he was a nice guy was just sort of an added bonus on top of his talent."
"Easy and fun" were the words of the day. From what I witnessed, the entire set had the vibe of people happy to be there. And Bomer, a true gentleman, made sure to share his sun umbrella with me as we spoke. Earlier, I'd even heard some impromptu singing on the set.
"We always sing on the set." Bomer laughed. "Singing with Diana and Billy Dee last year was for me, kind of a creative dream come true." 
Might it come up again on air? "It has to be organic to the story... I wouldn't want to do it purely so people knew that Matt Bomer can sing. I don't think that would help anybody. Otherwise I just have a good time singing with people on the set."
When asked what attracted him to White Collar, Bomer (whose dark hair, blue eyes and stellar suits looked just as amazing in person as they do on screen) responded: "It was multi-dimensional. That the writing was good. I could tell how important this world was to [creator] Jeff Eastin. That he has something personal invested in this beyond just 'I have a script that I hope I sell.' This was a world he was deeply emotionally and intellectually invested in."
Why he was drawn to play the character of Neal Caffrey? "What I love about Neal is that there's lots of different aspects about him. There's that hyper confident, well put together, charming exterior but he has a lot of different masks that he uses to get what he wants. At the same time he was a lot of shadow, which to me is always more interesting to play."
Garson, who plays Neal's sidekick in crime, Mozzie, concurred about the writing being the big draw. 
"More important to me always is the script and the script was so elegant, so well thought out and so crafted. It was a throw back to the shows that I watched as a kid, like Mission Impossible, Hawaii 5-0, the original one. I say that with an exclamation point! Also, Columbo. Like this really well crafted script."
But what was it that attracted him to fan favorite Mozzie? "I haven't played this before. It's very close to me, his sensibility, his snakiness.  All that stuff is very similar to me."
When the season premiere airs this Tuesday, June 7, what will the cast be doing?
"I'll be nude," Garson joked. "No, I don't know what we're going to do. We [got together] in January [for that premiere] but we were all in LA and it was on at 7 o'clock. Ten o'clock is very late for us here. We start very early in the morning. But I'm not working on Wednesday so maybe I'll stay up and watch it, in Mozzie fashion with a good Cabernet, some candles, nude. Keep that image in your head.
Check back here after the airing of the premiere to see what the cast has to say about their thoughts, concerns, and excitement for what's to come in season three.
C. Orlando is a TV Fanatic Staff Writer. Follow her on Twitter.