Wilfred is the kind of show you really want to like.
It's as unique as a sitcom can get, it features a strong lead in Elijah Wood and it aims for interesting, profound themes. Two and a Half Men this is not.
All that said, I didn't love the series premiere, "Happiness." It was cute and different, but not especially funny, and I can't help but wonder how long such a premise can last.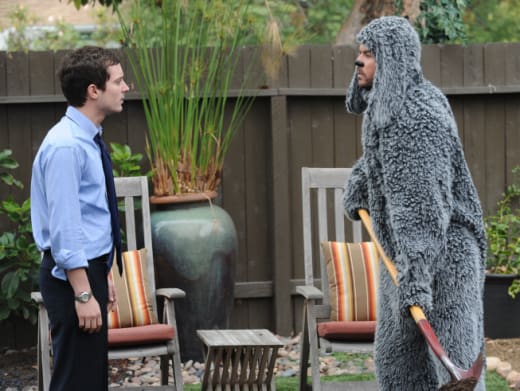 In order to have staying power, Wilfred has to be more than a one-note series. How many times can a man in a dog suit hump a woman's leg? Or aim to shock viewers with the image of the same canine/human smoking? But let's not critique episodes that haven't aired yet.
Focusing just on the pilot, I can safely say I like Wood and I like Jason Gann, who originated the role of Wilfred in Australia. They play off each other well and Wood sold his character's downtrodden outlook on life perfectly.
My favorite moment is pictured above, when Wilfred went into full-on dog mode and gave us a look into the insecurities that plague our pets when we leave for the day. Do they really fear we'll never return?
Most of the time, though, Wilfred tried to impart lessons to Ryan, hoping he would act like a man by, ironically, acting like a dog. This is a guy who didn't really wish to kill himself (he rewrote his suicide note numerous times and mixed his pills into a shake), he just needed someone to actually focus on his confidence and insecurity issues.
Ryan's sister may have meant well, but yelling at her brother to shape up and just change his perspective didn't get the job done. At least not like crapping in some bully's shoe did.
Future episodes are titled "Fear" and "Trust," so we can assume Wilfred will stick with the concept of one pal helping another pal overcome various problems. It's really not much different than other buddy comedies in that sense, one of the friends in question happens to be a dog. There's potential there, and I trust FX more than any other network.
But if I'm not gonna laugh out loud at any of the jokes (and I didn't here), I need more than a man in a dog suit to make a show work. I need the focus going forward to be on Ryan, a troubled, layered character, and less on the Gann-based gimmick. I'll stick around for a few weeks to see if that happens.
What did everyone else think?
Matt Richenthal is the Editor in Chief of TV Fanatic. Follow him on Twitter and on Google+.