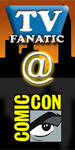 Executive producer Ira Steven Behr, co-creator and executive producer, Zak Penn and star David Strathairn all came out for this weekend's
Alphas
Comic-Con panel discussion. Among the topics they covered with fans:
Lindsay Wagner, Summer Glau and Brent Spiner will guest star.
More intel regarding the conspiracy and mythology behind the Alphas will be reveals.
More will happen with Red Flag.
Look for an Alpha child in the near future.
The goal is for the series to keep its heroes living in a normal world, hence why Gary must be home every night by 9:30 p.m.