Enuka Okuma Exclusive: Who Will Traci Choose on Rookie Blue?
Matt Richenthal at .
A choice will soon be made on Rookie Blue. But star Enuka Okuma wouldn't give me a hint about which direction her character of Traci is leaning.
"We've seen a little bit of the triangle between my baby daddy and my detective fling," the actress said this week. "Traci has to make some decisions. She's been flip flopping for two seasons."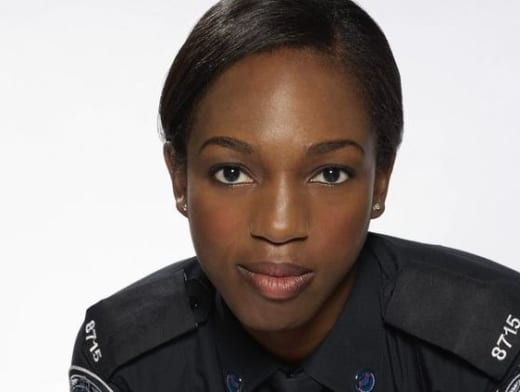 Okuma stopped there, but she did offer another, more professional tease regarding Traci's evolution and what we can expect on the upcoming finale.
"Her ambitions start to show a little more. We see that she has an instinct for solving problems and an inclination toward moving up the chain at work, let's just say that."
Okuma also joked about how little training she's had, saying that her first day of shooting on the show was also Traci's first time taking action on the street. ("That was pure, true panic on my face," the actress said.)
With Rookie Blue picked up for a third season, there are many reasons behind the show's success. How would Okuma break it down?
"We can all relate to having first experiences with the job. But it also appeals to both men and women. There are cop storylines, for men, and the relationship aspect, for women. There's something for everyone!"
Matt Richenthal is the Editor in Chief of TV Fanatic. Follow him on Twitter and on Google+.