The people of Eureka went crazy for the music in "Reprise."
Music can have a profound effect on people... unless, of course, you live in Eureka. Then, it can drive you absolutely insane. What can I say about this episode except: Power to the NERD, my friends!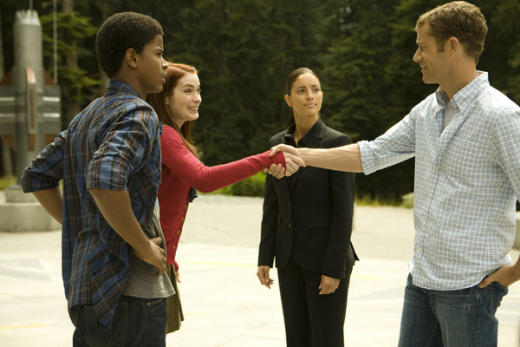 I absolutely LOVED it! Eureka continually fits all kinds of awesome nerdom and fabulous geekery into each hour, while still giving its audience a wonderful story. From beginning to end, it delivers a perfect hodge-podge blend of humanity, humor and downright spectacular moments.
Some stand-out moments revolved around Fargo and his killer kung-fu dance moves when getting psyched for the FTL visit. Also couldn't get enough of him in the holding, cell replaying "Eye Of The Tiger" by Survivor. He's just so adorkable when trying to be badass.
Felicia Day, as Dr. Holly Marten, was also a blast. Her sweet awkwardness and genuine passion for all things nerd and science makes you just want to reach out and hug her.
Honorable mentions go to Andy and his babysitting prowess (the way he spoke to Jenna made me think of Tom Selleck from (Three Men and a Baby), Vincent and his partying swagger/ability to fit multiple dance song titles into one line of dialogue, and to Jo who took a bullet for Jack, even though she was the one that shot it at him.
Overall, this week's episode was chock-full of Dr. Who references, video game jokes, and fabulous music. I couldn't stop thinking of all the song possibilities and what the series could have done with them. The installment made me smile from start to finish.