For obvious reasons, this episode of Falling Skies was titled "Silent Kill" (eat it, Skitter!), but it could easily have been called "Silent Pain."
Viewers saw a much softer, more vulnerable side to both Anne and Weaver, who suffered quietly over their losses in the alien attack.
It's easy to forget the invasion only took place six months ago. Everyone has been fighting for survival ever since, organizing teams, figuring out strategies. Only in down moments do they have a chance to mourn loved ones. It was jarring to watch Anne and Weaver do so here, especially against the backdrop of good news for the Masons: Ben is free.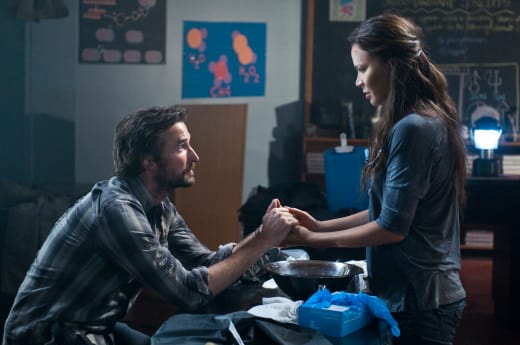 But is he truly okay? Yes, Ben recognized his father to close the episode, but Rick doesn't act like any normal kid, does he? Is is possible that the death of the children's chosen Skitter could have a negative effect on them in some way?
Speaking of which: how freaky was that scene/act?!? It opens up the possibility that the aliens lost their own kin and have arrived to shepherd in a new flock, but... man. Watching that Skitter fall asleep on top of his violently adopted brood and pat their heads was just eerie.
It stood in contrast the moment shared between Tom and Hal. These two butt heads occasionally, but you always get the feeling there's a strong connection there. Noah Wyle nails every tender moment for his character, which helps separate
Falling Skies
from other alien invasion-based programs:
We're never far removed from the heart of the series. Tom isn't running around screaming, shooting, panicking. He's just a loving father, never failing to be there for his kids, who has been thrust into the role of quasi action hero. He also seems to have come a long way from the premiere, when he said his wife always said the right thing to their sons. Tom did a pretty solid job here with Hal, didn't he?
Other questions/notes from a slow, character-building hour:
We don't know for certain what relationship Scott has to Anne, right? Father-in-law is the best guess.
It's safe to assume Sophia was Weaver's daughter. Anyone familiar with the song that reminded him of her?
I missed Pope. But I assume he was cooking up some mean stew somewhere.
Margaret has some "bad" cancer? Come on. Is it really that hard to provide more detail? This took away from what should have been a memorable scene and another example of a previously stoic individual opening up.
Where is Karen? Why no mention of rescuing her?
Matt Richenthal is the Editor in Chief of TV Fanatic. Follow him on Twitter and on Google+.