Where can you find two gorgeous guys, pole dancing, and Lady Gaga's gum? This week's episode of Franklin & Bash, of course!
With Franklin going up against Bash, the innuendo flew as they battled one another for their pole dancing clients. To wit:
Franklin: Well, girls, our job is no different than yours. We're here to get you off. | permalink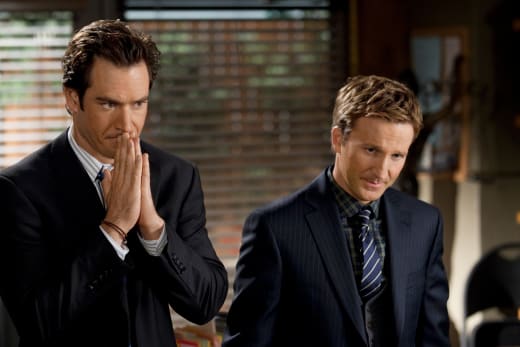 With "Franklin vs. Bash," we got the fun of watching these two friends go from volleying Van Halen song titles in their opening arguments to tearing one another apart when their insecurities boil over.
They both secretly think the other is the better lawyer and it's too darn cute. Having pole dancing instructors for clients should capture all of their attention, but when the boys have to go head to head their fragile little egos can't take it. 
Only Franklin & Bash can walk the line of inappropriate and do it so well that I can't do anything but laugh. Again, an example:
Bash: How was it really any different than any other book club meeting?
Ms. Elliott: We don't usually get naked and do tequila shots off each others breasts. | permalink
That must be one hell of a book club.
I started watching this show for Mark-Paul Gosslaar and he hasn't disappointed. He's charming, hot, likable, and has his shirt off in almost every episode. Certainly no complaints there.
But Brekin Meyer has really won me over, too. In the pilot, I found Jared Franklin a little too cocky and annoying - but each week I've liked him more and more.  From his barely hidden insecurities to his bad little boy gleam in his eye, Meyer has made Jared great fun to watch.
We see Jared rattle off the contents of his safety deposit box here: an old Wrestlemania VHS tape where Reba sang the National Anthem ("it was angelic"), a piece of Lady Gaga's gum and the program from his high school production of Joseph & the Amazing Technicolor Dream Coat where he played the butler.
These are the things in his safety deposit box? What do you do with a guy like that? Kiss him, spank him, fire him, or all of the above?
C. Orlando is a TV Fanatic Staff Writer. Follow her on Twitter.