Franklin & Bash love sex.
If the innuendo's not flying, then the clothing is. If they're not having sex, they're talking about the fantasy sex they want to have. Like Scarlett Johansson on a desert island.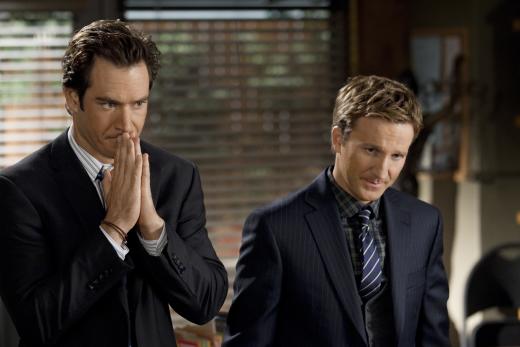 "The Bangover" was all about danger sex. Peter couldn't stay away from Infeld's niece Lily. I was surprised that Jared reminded him that Infeld's been good to them and perhaps he should refrain from bedding the attractive law student. 
Peter gave abstinence a shot but it didn't last long. Add the lure of danger sex with a more than willing and beautiful partner and Peter never stood a chance.
In the end, his inability to control his raging hormones was what got Lily sent back home to England instead of thrown in jail. 
The sparks between Peter and Janey were still evident as she couldn't hide her jealousy. And I couldn't help but believe that when Peter talked about the difference  between just having sex, and having sex with someone you love, that he was speaking of Janey.
Or perhaps I'm just a hopeless romantic.
Carmen had her own issues. Apparently the sex with ex-boyfriend Dante was so addictive it was worth violating her parole. 
To be honest, that side story did nothing for me. Dante seemed way more trouble than he was worth but then again, I wasn't the one having sex with him so I could be missing something there.
Of course the episode wasn't all about sex.  It did open with Franklin and Bash having a lightsaber duel in court, with real lightsabers? They had sound effects and everything. I have to admit, I geeked out just a little over that.
A show that can seamlessly mix danger sex and Star Wars memorabilia? Who can resist a show like that!
C. Orlando is a TV Fanatic Staff Writer. Follow her on Twitter.