Well, I'm certain of one thing: I'll never read a history book the same way again.
"All the President's Heads" was certainly funny. I enjoyed watching Futurama do its take on our nation's past, especially adding humor to what some might consider the more boring aspects.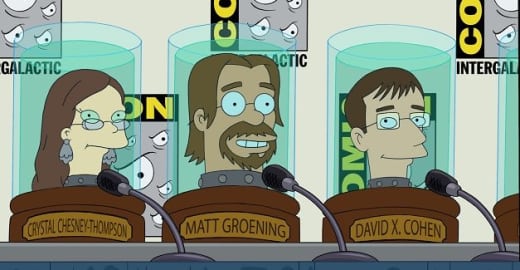 I loved Futurama's "butterfly effect" after Fry borrowed one of the lanterns and Paul Revere misinformed the nation of how the British were coming. Hearing everyone talk in British accents and playing off the stereotypes was great, as was "The Declaration of Dependence" and the "'All of Heads."

Also, sorry New Jersey, even our forefathers elected you guys the joke state.
"All the President's Heads" was another solid episode of Futurama. I only wish we could enjoy the "British" version of it just a little longer.
Other thoughts:
Nice Dr. Who shout out.
Bender can do everything! Cook a chicken, shoot a cannonball, and sift through feces!
I wish Amy, Zoidberg, and Conrad were used a little more this episode.
Below are some of my favorite Futurama quotes from the episode:
Bender: Woohoo, time to go clubbin'! Baby seals here I come! | permalink
Jefferson: The yays have it. Our nation's official joke state shall be New Jersey. | permalink
Leela: Professor no! You can't tongue the father of our country! | permalink
Bender: You idiot, I'm not a cannon! [Shoots a cannonball] Huh, guess I am a cannon. | permalink