Leverage Review: Bring on the Cheese!
Jim Garner at .
Nate and the team had their hands full when tasked with bringing down a man who pulls the strings from the shadows to hurt good people in "The 15 Minutes Job."
If you have ever asked, "What would Nate Ford be like if he used his powers for evil instead of good?, you got the answer in the form of Reed Rockwell, professional career assassin. When Hardison, Parker, and Eliot went through the details about who Rockwell was, we were set up to really hate him.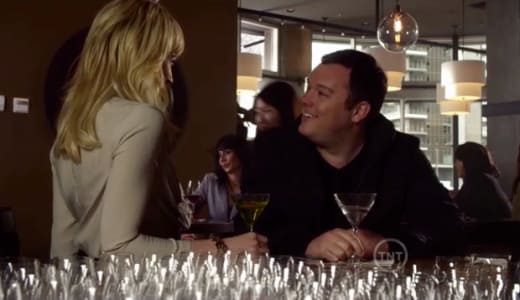 He had his own team, his strong guy dressed a lot like Eliot, and he had all the makings of a great bad guy. I even wondered if we might be meeting this year's recurring villain when the episode opened.
Sadly, a good concept was all the character had, as he turned out be boring and one dimensional in delivery. Even if I forgive the writers for dropping the ball on Rockwell, I'm hard-pressed to forget the amount of "
Gee, Scooby, let's get back to the Mystery Machine
" attitude that was used. In fact, there are three scenes that were so cheesy that they almost made me lactose intolerant.
The first was when Eliot was pretending to mug Parker and Rockwell walked by without a word. Parker and Eliot were shocked to find a woman standing there whacking Eliot with her umbrella in the arm. When this was written, I'm sure it was hilarious; I just wish it had been a bit more dairy-free on screen.
The second was the very next scene: we got to see Sophie chasing a runaway baby stroller, as she stopped to gawk at Rockwell for not helping and the stroller was presumably crushed by a car. She then looked the direction the stroller went, only to shrug it off like she couldn't be bothered.
Lastly (but the most offensive) took place when Hardison and Parker went to the police archive to retrieve the film negatives. From the records keeper not hearing Parker right behind her (multiple times) to Hardison coughing to cover Parker rattling a file cabinet, this scene should have come with crackers or wine.
Don't get me wrong, I love the cheesy goodness when used as small tidbits to move the story along throughout an episode; but, the thing I enjoy most about the show is how clever the team is. I look forward to seeing this revealed each week at the end of the episode when we get the breakdown of how they pulled off the job.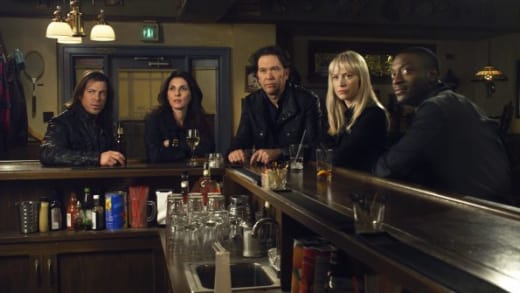 Granted, this installment was better than last week, resulting in the Leverage equivalent of a Twinkie: sweet and entertaining, yet no nutritional value whatsoever. But, like all Twinkie devourers, we keep coming back for more!
Jim G. is a TV Fanatic Staff Writer. Follow him on Twitter.