Dwight and Whitehead searched for a missing corpse, White faced his fear of zombies, and Dwight's mom successfully drafted every member of the MPD for the annual benevolence fundraiser on "Body of Evidence."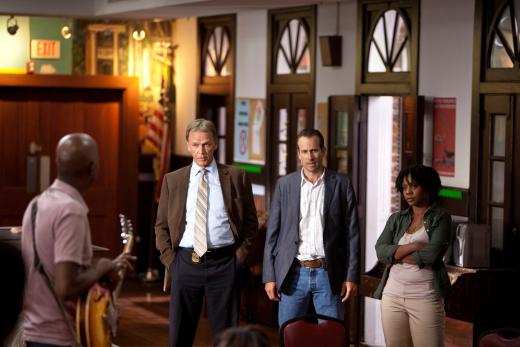 The events made for an entertaining and dramatic addition to the show's second season. Who knew the series could go from missing bodies and abduction jokes to an intense tale about a young man attempting to give back to his community, only to lose his life in the process?
It's this kind of careful versatility that makes Memphis Beat one of the most under-appreciated cable network offerings.
More importantly, we saw a little bit of every regular cast member this week.
While Greenback has served a more supporting role for the most part, he really stepped up here to comfort the mother of the dead football player whose body was missing. She was truly grateful for it, so much so she returned to the precinct to personally thank him. It was one of Greenback's more emotional moments.
Davy Sutton didn't do too badly with Brad Watts' best friend as he was held in lockup, either. People under-utilize Davy, despite the fact he has some rather masterful interpersonal skills that make him a great ally in interrogation. He had Brad's friend talking in no time, without even asking a question, artfully gaining his trust through respect and genuine caring.
We also saw Sutton's more devious side. He was hellbent on a more high-profile job at the annual benevolence benefit, and didn't waste time putting Dwight in his debt, only to turn around and collect on his job as a Fortune Teller. I'm sure that isn't exactly what he had in mind, but he sure seemed to have fun doing it. Beware of the man in plaid.
Paula Ann was also a welcomed fixture in the precinct again. It seems the writers have found clever and believable ways to feature her talents. I love how her delicate use of manipulation cornered Greenback and Whitehead into retaining their traditional jobs at the benefit.
Perhaps the most unexpected and enjoyable aspect of the plot was Whitehead's fear of the undead, which stemmed from a horror film he saw as a child. Poor Pickles the cat.
One thing I have come to appreciate about Memphis Beat is its ability to deliver something new and different every week. But I would like to see some kind of compelling story arc emerge. Something more long-term, you know?
It's hard to tell what the overall trajectory of the show when its content is so fragmented. I know there is some amazing potential given what this series has produced on an episode-by-episode basis, so it certainly doesn't seem too far out of reach.
It's not as much a complaint as an observation, but one wonders how long a show can last on such a stagnant plane.
C. Charles is a TV Fanatic Staff Writer. Follow her on Twitter.