Dramatic. Heartfelt. Real.
Memphis Beat paired a heartwarming story about an abandoned infant with the sobering plotline of a nun struggling to repair her broken family in "Flesh and Blood."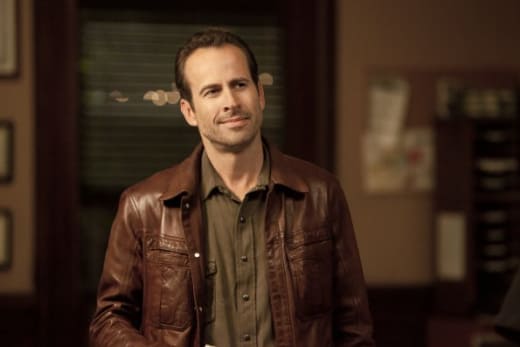 An abandoned infant proved an enlightening and heartwarming addition to the cast. DJ Qualls'performance as Davy Sutton hit an emotional all-time high that had me begging to see him as a father in the future. His attachment to "Penaria Lula," as he so lovingly named her, made for some lighthearted moments against the backdrop of a very tense episode.
I think Sutton's speech about how special the care of a small child can make you feel speaks volumes about the kind of father he'll be. Besides, who didn't love seeing Dwight's mom giving him mini-parenting lessons inside the precinct?
Sutton also deserves props for this heartfelt baby name, going with whatever ailment his great grandmother suffered from... even if we don't know whether or not it's an actual medical condition. It's definitely the thought that counts.
And who could forget when Dwight sang the Elvis classic, "Let Me Be Your Teddy Bear," to the child to quiet her.
I always love how Memphis Beat has the ability to dig into an event, like the lawyer's murder, and delve into it in such a way that the event that started the investigation is only a small piece of the larger picture. Who knew that the attorney's adoption scam was only the tip of the iceberg, leading them to a nun, her pregnant school-age younger sister and their back-slidden father?
It always astounds me that this show can make even their guest characters wrought with depth, making us want to see them again in the future (remember Keith Grant?).
Other highlights from the episode:
Sutton setting the baby's car seat on the copier and running black pages just to keep her asleep.
Dwight's mom acting as co-babysitter.
Sutton's attachment to the infant.
Danielle Panabaker guesting.
One thing's for sure: This episode was Memphis Beat gold. It's the kind of drama and light-hearted comedy maintained in such a careful balance that it makes this show a must-watch this summer.
What would you have named the baby? Were you as in love with this episode as I was? Sound off below!
C. Charles is a TV Fanatic Staff Writer. Follow her on Twitter.