The second episode of Necessary Roughness proved me wrong - and I couldn't be happier. After enjoying the pilot, I began to worry: Would this entertaining premise be enough to sustain a series? Would they be able to give the peripheral characters enough depth to make them truly interesting?
"Anchor Management" alleviated many of my fears. Dr. Dani was equally likable, but the surrounding players stepped up their game as well.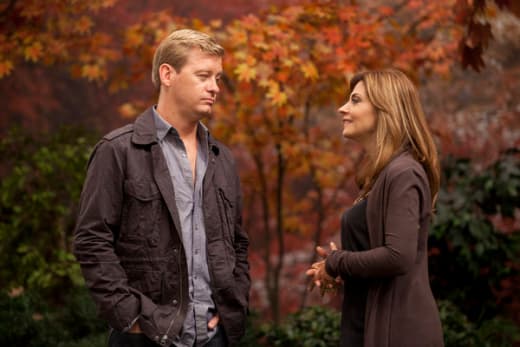 The best part of TK's story that it gave Matt a bit more of a role. Callie Thorne and Marc Blucas had some great chemistry. This duo could be very hot if allowed to get back together. In the meantime, we're getting teased with some of Dani's fantasies. Dream sequences are the type of things that normally annoy me, but they worked for me here, at least for one episode.
Dani's BFF, Janet, has grown on me, as she had many of the
best lines
of the night. She was the comic relief and the insight into Dani's personal drama. Apparently, even a mental health professional needed a best friend to remind her what it was like to be a teenage girl. To wit:
Janet: Do you remember what happened when your Mom said you couldn't go out with Ray?
Dani: I got married and pregnant. Oh. | permalink
I was happy we didn't have any more of Dani's mother, though. I didn't enjoy that gambling addict at all in the pilot and was happy for the reprieve.
Unfortunately, her son comes across just as sleazy as his dad. Maybe that's the point. If so, it will be interesting to see how Dani deals with that down the troubled road.
I liked the way Dani handled new patient, Griffin, especially when he showed up for an appointment drunk. She didn't get upset, she simply laid down the ground rules. Griffin's pain seemed to radiate off of him in waves and was well played by actor Nicholas Bishop. The angst and fear he conveyed over being a new parent was heartbreaking.
I enjoyed this latest episode even more than the first. Perhaps I'm a TV cynic, but I didn't think I would. Go ahead, Necessary Roughness. Continue to prove me wrong.


C. Orlando is a TV Fanatic Staff Writer. Follow her on Twitter.