"Rash Talk" is the exact thing I seek to avoid with this week's review.
While I normally love the writing on Royal Pains, this week was full of cliches when it came to everything but the medical case. I really didn't expect Hank to use use grapes while treating Stella.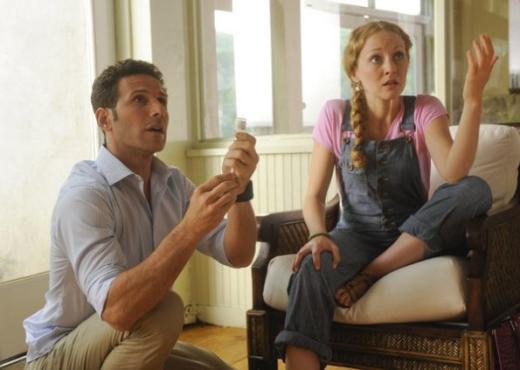 Let's start with Hank giving rude neighbor Mr. Douglas a look over after the husband of Hank's patient ,Mrs. Howard, exacted revenge by dumping compost on him. I don't think Hank needed to go to all that trouble, and, in the grand scheme of things, the whole episode only caused Douglas to give himself chemical poisoning.
Then there was Mrs. Howard's undiagnosed heart condition. While the two cases were connected, they muddled the larger plot involving the female entrepreneurs and Stella's illness.
The episode could have gone without it, except for the fact that Mr. Howard ended up passing on his gratefulness for Hank's treatment of his wife in the form of an investment in Stella and Kate's business. They could have kept the ball rolling by attributing Mrs. Howard's disposition to something other than an annoying neighbor and his dog.
Maybe it would have given them more time to actually address Paige's medical drama that has now become a sticking point for me. How long can they go before Paige actually divulges whatever medical crisis she's facing? We now know it has to be serious. Otherwise why would she have yelled at Hank they way she did and ran away?
I could see her deceiving Evan again at the end from a mile away - and I was kind of annoyed by it.
Now, we come to Jill and Hank...
We really need a solid definition for what's going on with these two. Jill's explanation for why she and Hank work certainly didn't work for me. They just suppress it all instead of actually dealing with their feelings because it means that they can continue to live in a grey area.
I'd prefer they just commit to each other than continue to hook up. I know we already have one steady couple, but I feel like Jill Casey's character only exists if Hank does. She doesn't stand on her own very well, even as the show continues its third season. Anyone else agree?
If Jill was serious about going back to Uruguay, she should have just kept her distance from Hank out of respect for him. And Hank should have had more respect for himself in that regard.
On another front, more signs of Divya's exile appeared in the form of a credit check this week. How did the poor girl not know they'd run a credit check? Or did she know and think she'd pass with flying colors given her parents' history?
It seems there is a roadblock at every turn Divya makes, but I've appreciated her perseverance and look forward to sharing in her triumphs when the time comes.
As for Eddie R. Lawson's eminent return, I've missed Henry Winkler and it'll be a pleasure to have him back with cast, if only for an episode.
There was also one redeeming plotline running in the background that I couldn't help but smile over: Wick's Sticky Sticks from Evan's childhood. There isn't a thing Paige won't do to make him happy, which is why I don't understand her hesitance about this medical secret.
I love this show, it's like summer in a Tiffany and Co. box that I can actually afford in the form of my television screen. It just missed the mark a little bit this time out.
But the good news is Henry Winkler returns next week, and something dramatic is slated to happen. I swear I caught a glimpse of a car crash there at the end of next week's preview. Furthermore, Marissa is going into labor! We'll finally get to meet the little von Jurgens-Ratenicz!
C. Charles is a TV Fanatic Staff Writer. Follow her on Twitter.