In what was only the first episode of the back half of the season, "Night School" had all of the suspense and excitement of a season finale.
Thanks in part to the bottle episode-like atmosphere, there was action aplenty, as almost the entire hour took place inside the school that Scott, Stiles and company call home on a daily basis. Viewers were treated to crazy scare that a gigantic alpha wolf can give you as it attempts to hunt down a group of kids in the aforementioned school.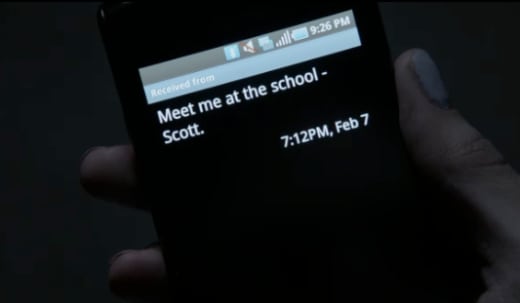 The suspense was surely potent, but very much in the style of any modern horror movie. Every step around the corner for Scott and the gang was another opportunity to lock themselves in a mini death trap just so that the alpha could find them and scare them into escaping to another locked pit of doom.
It was extremely predictable that way, but I still enjoyed it. Every time the alpha came closer and closer, I tried to hide my eyes... but ended up reluctantly watching him pass on hurting any of the Beacon Hills students.
This was the interesting development from "Night School." Thanks to the explanation from Scott, we learned that the alpha doesn't want to kill Scott or any of his friends. Instead, he wants the Teen Wolf to join his pack. To do so, again regurgitated by Scott to the audience, the alpha wants Scott to kill his old pack; aka Allison, Jackson, Lydia, and Stiles!
Say it ain't so, Scott! Not my man, Stiles. It's bad enough that it seems like Derek Hale is gone (still up for debate whether he's actually dead), you can't take away Stiles just because the alpha wolf's powers force you to want to kill your friends.
Speaking of Hale, how dare Scott throw him under the bus like that! Just when I couldn't be angrier with the young wolf, he goes and tarnishes the name of the stud that is Derek Hale. Seriously, though, in that moment when all of his friends were staring him in the face, waiting for an answer, shouldn't he have come clean with the truth?
Were they not ready for it? They seemed to be prepared to hear anything at that point. Scared for their lives, Allison, Lydia, and especially Jackson were going to believe the werewolves' bit. And if Allison didn't believe it, then her father and aunt have done an even better job at hiding their occupation than I originally thought.
And about dear, sweet Allison. I loved her decision to tell Scott "don't call," especially after watching her and Jackson have such a nice moment earlier in the episode. Was Jax sincerely concerned for Allison's well being? Maybe not, but I'd take him over Scott any day. Anyone up to join my new Jallison fan club?
Jackson, while attempting to steal Allison - even though he currently dates Lydi - continues to have some strange stuff going on with him. The only new information we learned about his condition is that when the alpha turned Scott into a wolf, he seemed to have a similar control over Jackson. That is a story I can't wait to see pan out.
So as we continue to head down the second half of this first season of Teen Wolf, Scott has to attempt to stop himself from killing his best friends while under the influence of the alpha wolf. Sounds easy enough, right?
Dan Forcella is a TV Fanatic Staff Writer. Follow him on Twitter.