Dear whoever is writing the lines that Sean uttered on "Sexual Healing:" Stop it! You're making the rest of us guys look bad!
Seriously, the meds Sean started taking again this week made him smoother than George Clooney, more suave than Derek Jeter. It seemed like a bit of a stretch for Rebecca to get so upset over a couple of honest critiques, considering the overwhelming praise Sean was uttering the rest of the time.
But it's probably best not to question a pregnant woman's emotions, is it? Moving on...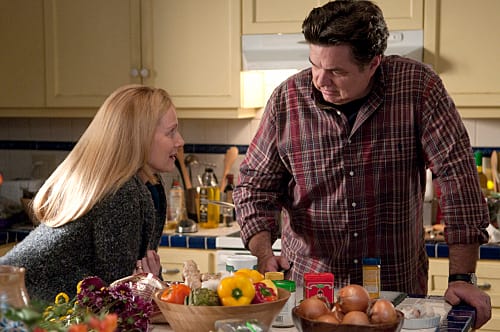 The episode as a whole was a nice, light break from last week's talk about life and death.
That topic will always hang over every installment of The Big C - this is a show about cancer and all - but viewers can only handle so much direct talk about accepting one's mortality. Sometimes, we need some good ol' vagina sleeve foreplay instead.
The idea of Oliver Platt masturbating and/or ejaculating into a phony private part was actually less gross than the scene with Adam underneath the bleachers. Kudos to the series for casting someone (Gabriel Basso) who actually resembles a high schooler, but...
yech
. That just made the idea of him going at it with a similarly-young looking girl that much more disturbing.
The series also seems to be hinting that Adam's latest escapades are a way for him to sub-consciously deal with his mother's diagnosis. I say it's just a teenage guy acting like a teenage guy. Both girls from the last two weeks were very cute and made it very easy for him.
In the end, sex is almost an underrated aspect to all relationships. On a literal, physical basis, it's the only thing that separates one's significant other from one's friends. Show me a couple with an unsatisfying sex life and I'll show you an unhappy couple.
Cathy finally understood that idea this week, making for an episode that was both entertaining and appropriate for the show. I enjoyed it thoroughly.
Matt Richenthal is the Editor in Chief of TV Fanatic. Follow him on Twitter and on Google+.