Corey Reynolds can't guarantee you'll love the finale of The Closer.
"I like to draw a comparison to relationships," the actor told me today in anticipation of tonight's season seven premiere. "When you get to the end, it's rare for both sides to be satisfied."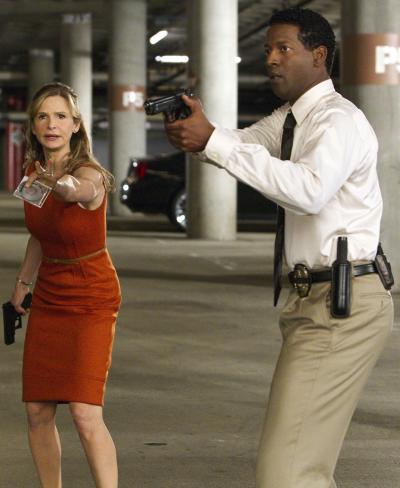 No matter how Brenda bows out, it "will likely be a painful experience for many viewers," Reynolds said. But he hopes they are "invested enough in the production as a whole to give the spin-off a chance."
Ah yes,
the spin-off
. Will David Gabriel be featured on
Major Crimes
?
"The idea of a spin-off is exciting, but there are no details yet," Reynolds said.
If that sounds like a network-prepared statement, it is. TNT has prepped its stars well.
Reynolds, similarly, prepared himself well for his role by talking to relatives, three of whom have experience in law enforcement. He's fine that viewers don't know a great deal about Gabriel personally; he was never interested in a soap opera-type show as much as he was a police-based drama.
"The biggest compliment we can receive is from officers saying we're giving them an accurate and honest portrayal of their experiences," he said. "I wanna know what these people feel, how seeing the ugly side of humanity takes a toll on them psychologically."
Back to the final season: is there anything at all Gabriel can reveal?
"It's gonna be a fun ride," he said. Will it be the type of roller coaster after which people say they never want to ride again? Or the type when they're anxious for another? We'll see."
There's that spin-off tease again.
The Closer airs its season premiere tonight on TNT. Tune it for the final few minutes, which Reynolds says will "shock viewers" and then visit TV Fanatic for a full review.

Matt Richenthal is the Editor in Chief of TV Fanatic. Follow him on Twitter and on Google+.