Does everything on The Closer happen on the sly these days? Delk definitely died, but things are not going to be the same as they used to be.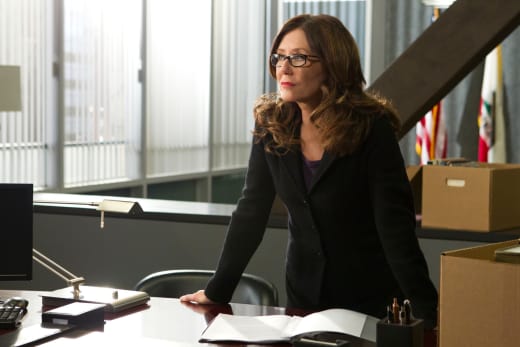 The show honestly expected me to believe that the entire squad found out Pope was the Interim Chief of Police at the funeral?!? How did that even happen? They were all set to move him to Traffic, and then he's Chief? Something smells very fishy here.
The only positive to the end of Delk's story - as shown in "Repeat Offender" - was seeing everyone in their dress blues. I think it's the first time in series history that happened, no?
I'm having a hard time swallowing this as a series-concluding season. Things just don't seem to make sense. Or, perhaps, I just never read the degree of Pope's feelings toward both Raydor and Chief Johnson due to Brenda's run for chief of police.
If the show was hoping to soften Raydor prior to her spinoff, such a change started tonight. She was genuinely concerned about her relationship with Brenda, and she and Pope practically had it out over his decision not to allow her to close the investigation into major crimes.
I actually felt sorry for Raydor as she tried to talk, in code, to Brenda to clue her into Pope's actions. The two women had come so close to being friends. Watching their interaction over Pope was downright painful.
Apparently, Pope will do absolutely anything to keep his job as interim Chief of Police. Brenda had no idea about Pope's position on the investigation, simply trusting in their old relationship. Kudos to Fritz for reading Pope to the letter. Listen to him, Brenda!
Elsewhere, let's all sympathize with Tao for trying to get through to the laptop support group. We've all been there, haven't we?
What stinks about all of this is that Brenda and Raydor are both great at their jobs. They're strong and effective. But an aging, frightened, almost ex-assistant Chief of Police is willing to put their lives (and the lives of the entire Los Angeles community) on the line. Shape up or ship out, Pope.
Carissa Pavlica is the managing editor and a staff writer for TV Fanatic. She's a member of the Broadcast Television Journalists Association (BTJA), enjoys mentoring writers, wine, and passionately discussing the nuances of television. Follow her on Twitter and email her here at TV Fanatic.