It featured nudity, a fire, two sex scenes and a some confusing, spirit-inspired visions, but "I Wish I Was the Moon" was really all about relationships. This was as character-based an outing as I can recall from True Blood.
Think about it: can you ever recall an installment concluding with a ballad? With a forlorn look on the face of a character? With a sensual love making session? I've wondered about Eric and Sookie having sex since season one, but I never imagined their first time would be anything but violent and physical, based on lust more than love.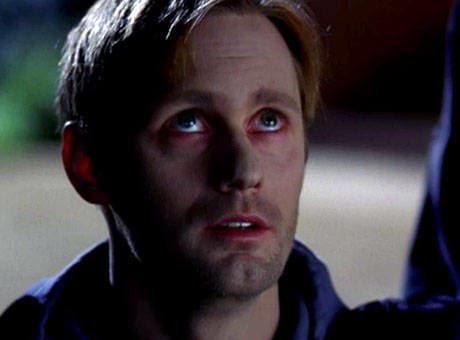 But this is a new Eric. He may infuriate Pam, but he actually teaches Bill a lesson. Forget the true death. True love means letting Sookie go, actually wanting her to be happy, even in the arms of another. Who knew Eric had that in him?
As a result, he soon had himself inside Sookie, as Team Eric fans across the nation let out a collective cheer.
The triangle that is Eric/Bill/Sookie (Erilkie?) was far from the only relationship examined this week, though. Consider:
Jason and Jess: Nothing happened... physically. But both sides recognize a connection here, as evidenced by their agreement to keep their evening together a secret from Hoyt. It's hard, and irritating, to believe the entire Hotshot angle was simply meant to lead here, to a frank discussion about Jason's insecurities and a nice speech from Jess over why he is, indeed, special, but whatever. I'm down with these two getting together. (Sorry, Hoyt.)
Alcide and Debbie: Call me crazier than the latter, but these two won't last. We all saw the look Alcide gave to Sookie, as he watched her prance into the woods with a shotgun.
*Side note: this season has been heavily based on the happenstance of people crossing paths with each other. Why, exactly, were Alcide and Debbie wandering through the forest on the way to that pack meeting? And think of everything that was set in motion simply because Sookie drove by Eric immediately after he was cursed, or by the good fortune of Hoyt and Jessica driving by as Jason collapsed on the highway.
Jesus and Lafayette: I don't really have a clear idea of what happened in Mexico, but Lafayette was able to summon a spirit because he's totes in love with Jesus. This has actually been the most stable couple on the show, which is easy to forget because they're often cursing at each other. But in a cute way.
Sam and Tommy: Apparently killing one's parents has results that go beyond mere self-loathing. At first, I was appalled when Tommy considering sleeping with Luna, but then she took her shirt off and, come on. How many guys out there would have done the noble thing there?!?
Sam did seem legitimately concerned about his brother when he found him passed out, however. That may change when he learns about what/who Tommy did. But I can at least say the storyline between these siblings kept me interested for one week.
Tara and her girlfriend: Don't smoke, kids, no matter what identity you take on. Other than that: blah.
Marnie and that old witch: Scary, cool stuff, huh? Marnie is by far the most well-developed villain the show has given us yet. I want Bill to eventually take her out, but I also wanted her to kill that vampire guard/former raping priest. A strong baddie must have an understandable backstory and Marnie has layers to spare.
What did everyone else think? Was the Eric/Sookie sex scene everything you had dreamed of and more?
Matt Richenthal is the Editor in Chief of TV Fanatic. Follow him on Twitter and on Google+.