You drank the whole fairy. Now go to your room!
Oh, Eric, you adorable, innocent, cursed viking of a vampire, you. While the actions of this deliciously drunk blood sucker were cuter than ever on "I'm Alive and on Fire," think about the ramifications that are befalling those trying to help him:
Sookie has lied to Bill, Alcide has revealed to Debbie that he's been to Bon Temps and Pam has lost her face. Is seeing Eric more vulnerable and less shirtless than ever really worth all this trouble? Various characters might not share your answer to that question, female fans.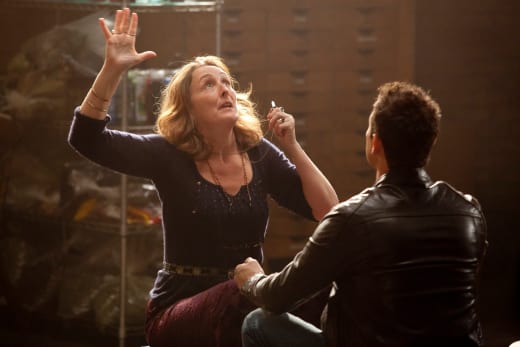 There have been few funnier scenes in True Blood history than the opening shots of Eric slapping Sookie's (beautiful) butt, and the subsequent back-and-forth between him in the water and a naked Alcide on shore, alongside Sookie.
Later, an interesting point was raised: is this the real Eric? When he eventually regains his memory, will he be a changed being due to this run of naivete? Or will he return to the arrogant, dangerous vampire we all love... but Sookie could never really love?
Over in Tommy land, meanwhile... just kidding. Who the heck cares? I can't be the only one hoping Joe Lee actually kills him, can I?
At least Tommy's boring storyline is making his brother look interesting by comparison. Are we headed for a Shifter vs. Werewolf battle over Luna? And, if so, might Sam benefit from the assistance of a certain dog-fighting family? At least that would bring these arcs together.
Speaking of bringing people together, is the show teasing a Jessica/Jason hook up? Or am I reading too much into the latter's nearly-dying gaze at his savior? Hoyt's a nice guy and all, but sorry man. If your girlfriend is struggling with her natural vampire urges, and a sweaty Jason Stackhouse has his eyes set on her, you should just start crawling back to that lioness who kicked you out before. You're gonna need a place to live.
Then again, Jason might have other concerns at the moment. The kind related to full moons and ghost daddies and the forced implanting of his seed and... yech.
Finally, it really doesn't appear as if Marnie is in control of her powers. Vengeful, Burned-at-the-Stake Crazy Deceased Witch Lady means serious business. Moreover, unlike the history between werewolves and vampires, there's no long-running feud here. Only Bill is concerned. Nan blows off the possibility (funny, relevant reference to Salem), Pam is unafraid to confront Marnie. What's so special about this wiccan? Why has she chosen Marnie? And, seriously, has an hour of television ever featured more male rear ends?
Such are the questions on my mind after the latest strong outing of True Blood. So far on season four, the series has found the ideal way to freshen up the Bill/Sookie/Eric love triangle. All it took was a curse and a promotion. One is king, the other is confused and I'm content.
Matt Richenthal is the Editor in Chief of TV Fanatic. Follow him on Twitter and on Google+.