That was an exceptional episode of True Blood.
As I said in last week's review, the season premiere moved many pieces around and mostly just set the stage for what we could expect this summer.
Having gotten a close glimpse at all of it on "You Smell Like Dinner," I couldn't be more excited for what's to come. Through a series of revealing quotes, let's review what went down...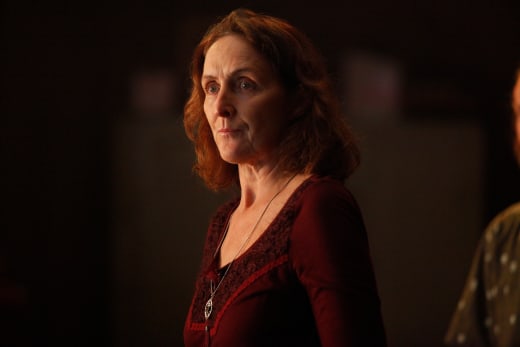 Technology takes all the fun out of being a vampire. Seriously, how funny is Pam? And how cool is it for the show to meld together this supernatural universe with the actual issue of how cell phones and social networks have affected the actions of those in the spotlight?
I can eat who I want.
In many ways, Jessica is the most interesting character on
True Blood
. She's young, she's confused, she's new to this world and she's in love. And she's portrayed in an fun, adorable fashion by Jessica Hamby. I love the focus on her through two episodes.
You've got Queen on you. I also love flashbacks. It was fun to see Stephen Moyer use his real accent in that scene from 1982 and it added more layers to Bill to see how he truly arrived in Bon Temps. It wasn't because he was spying for Sophie-Ann. It was because he was spying for Nan Flanagan ON Sophie-Ann. The further we get away from Bill as merely a guy in love with Sookie, the better.
I mean... what the fuck? Well said, Lafayette. I didn't put together the dangers that Marnie's bird resurrection could create for vampires. But now it makes perfect sense why Bill and Eric would see this ability as such a threat. More great work from Fiona Shaw as Marnie and more intrigue from this coven. The storyline even did a strong job weaving in Tara's return.
It will only hurt in the beginning. Jason as a were-panther? At least that gives this Hotshot storyline a purpose. And at least it gave us a major glimpse at Ryan Kwanten's abs.
There are two Sookies; Why do you smell so good? Yes, Eric gets two quotes, and neither even references how hilarious he is as a landlord. (New microwave? Cool. New cubby? A gift too far.)
While the concept of Sookie as a fairy seems a bit cheesy, it instantly becomes more interesting if such a realization provides the character with a new viewpoint on life, along with new references to spreading her legs for Eric. Hot and potentially fascinating stuff all around.
And then we have Eric as an innocent, lost, wandering soul. Spoilers had revealed this spell-based change was on the way, so it didn't come as a shock. But it opens up a multitude of possibilities for an Eric that is now Bill's subordinate... and isn't even aware of the fact that the roles were once reversed. Might this vulnerability land him in that shower with Sookie?
A rich, enjoyable episode overall, one that revved things up to True Blood levels of suspense, intrigue and fun. I loved it.
Matt Richenthal is the Editor in Chief of TV Fanatic. Follow him on Twitter and on Google+.