Happiness. Trust. And, now, "Fear."
I'd prefer Wilfred a lot more if it didn't try to send a message or focus on a new emotion each week. I mean, quoting Gandhi prior to tonight's installment? Slow down there. You're just a series about a man in a dog suit.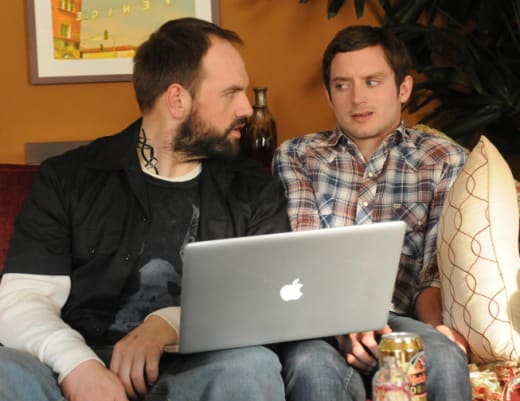 But I quickly moved past the irritation of this show taking itself too seriously and enjoyed the third episode more than the prior two. The main reason? Wilfred himself was on fire.
My favorite moments are when he combines the canine world with the human world in order to give Ryan advice, or simply comment on events around him. Here, Wilfred compared biting an Indian to eating Indian food, and truly got me with how he casually explained how dogs exert dominance over each other.
In two words: anal sex.
Funniest of all, he didn't seem to comprehend why Ryan wouldn't take the same course of action in his fight with Spencer. Just open the door, mate, pull down your pants and... nevermind.
There are still inconsistencies that bother me. Wilfred knows what a tampon is, but not a light pointer? I'd love to not worry about these issues and sit back and just enjoy the unique show as nothing but a comedy - but then it quotes Gandhi and clearly wants both Ryan and the viewers to learn something each week which dog Wilfred would screw, marry or kill.
Can't I just laugh at how he sees every color as grey instead?
Matt Richenthal is the Editor in Chief of TV Fanatic. Follow him on Twitter and on Google+.