So that's what a flat screen TV looks like if you smash it. I've always wondered.
Ari, Ari, Ari. You win some, you lose some. Though I would never cheer for the dissolution of one's marriage, it's a bit of a relief to finally have Mrs. Ari pull the trigger and file for divorce. After all, her incessant yelling every week was getting hard to bear. He could never please her, even though he nearly pulled off an introduction to Taylor Lautner for crying out loud.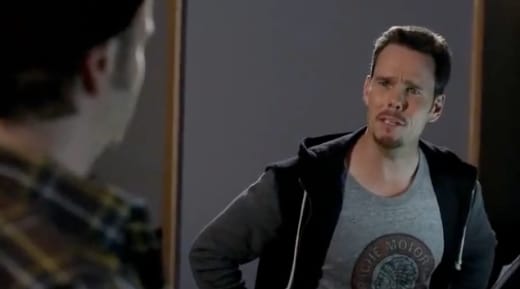 Teenagers would practically commit murder to shake his abs... I mean hands. So if Ari could've made that happen, he would be a contender for Coolest Dad on the Planet. Let's see Bobby Flay top that one. With what, a meatball bust of Robert Pattinson's head? Pshht, please.
Luckily for Ari, he didn't have to lick his wounds for too long before Dana forgave him. Plus, she probably stopped him from pulling a Tommy Lee on that hotel room, too. The fact that they have history makes her one of the only suitable women to step in to a post-marriage meltdown. Dana gets Ari's lifestyle, and she doesn't castrate him every time he does something wrong. So even though he's technically down one nuclear family, he's still kind of winning in that regard. Yes, I realize that's a stretch.
Next up on "Motherf*cker," we have the Scott, E, Drama, Dice saga. Drama might be the only honest man in Hollywood, and when he offered to give some of his salary to get Dice back, it was beyond endearing. Granted, it's no king's ransom, but Dice appreciated the gesture. Then, he scoffed at it. Jerk.
In the end, however, Drama took a brave, albeit suicidal, step to force the network to bring Dice back. I'm pretty sure there's not enough weed in California to take the edge off of that decision, Phil, toke away my friend. I really, really hope it lands in Drama's favor. Like E said last week, it always works out for them in the end, so I have to believe that Johnny's Bananas will restore both Drama and Dice to their former (C-list) glory. Plus, Billy is hysterical and I kind of want to see him flip out when he finds out. 
Speaking of flipping out, Sloan is going to spontaneously combust when she finds out E took the title of this episode to a new level. MILF, it does a body good apparently. Not that Melinda Clarke isn't stunning, but no amount of booze or commiseration should be siren song enough to actually bed your ex's (former step-)mother. Freud would have a field day with this one, I'm sure. Even though I'd really like to see E and Sloan work things out, if she finds out that E took down mommy dearest, that'll effectively flat line all hope of a reconciliation. At least Clarke got a manager out of the deal, but if I were her I'd request Scott instead. He's way more fun.
And, though it's nice to see Vince work his post-rehab charm to woo the ladies, he should probably not set his sights on a woman who could take him down in 3,000 words or less. Even though the Vanity Fair writer was a regulation hottie and went to that "pretty good school" Oxford, she's still forbidden fruit, Vince. He was right to smooth things out and re-do the interview, and it also reminded us all that his character has more depth than we see each week.
The two most implausible things about that whole set up were:
Sofia was a knockout - most writers do not fit that bill, trust me.
She drove a ridiculously nice car. We are all, for the most part, notoriously impoverished, therefore could never afford such wheels. Not even on a Vanity Fair writer's salary, but nice try Doug Ellin.
I'm curious to see what kind of story comes out of Vince's interview (or if she finally gives in to his advances), and I'm also waiting to see Turtle knock it out of the park with the Don Pepe's project. Entourage is at its best when Ari's cracking skulls, Vince is banging chicks, or Drama's life is melting down. I'd like to see two of those three pan out, but so far so good with this season taking the action in a better direction.
Now if only we could get a little more Lloyd in there, it'd be bliss.