Let's hear it for girl power!
This week, we got to see what things are like when the women (both good and evil) of Eureka are running the show. Literally, that is, as Salli Richardson-Whitfield even directed "Omega Girls."
It was great to see Zoe (Jordan Hinson) again. I was a little sad that she is now listed as "guest star" during the opening credits. But Zoe really has come a long way since the pilot. She was almost a force of nature, taking out Beverly Barlow's cronies with no trouble.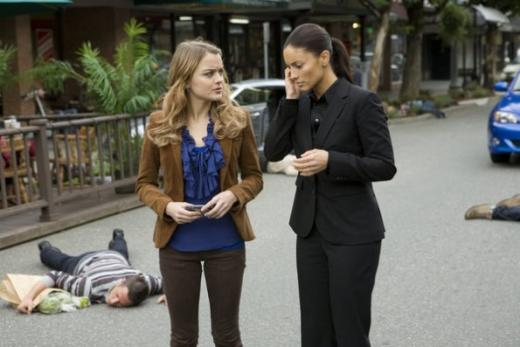 I especially loved the second guy. He thought he had outwitted her when she stood up in the main hall, only for Zoe to pulse blast him. She also figured out who had control of Allison just from the speech pattern and word usage. 
How awesome was it that Zoe and Jack both could tell Allison wasn't herself? Sure, we see body snatching, invasions, or possessions in sci-fi all the time. But they are almost always written where nobody notices that the person walked differently, spoke differently, or doesn't remember anything they should.
And cheers to the Carter family, who each had their own way to tell Barlow was controlling Allison. 
Speaking of Barlow; it was good to learn - via off-hand comments made through out the hour - that our femme fatale villain hadn't been controlling Allison the whole time, as I originally thought she had. 
Who wants to place odds that what she stole was the data on the Einstein-Grant bridge device? It seems too coincidental that they have been making worm-hole and time travel comments lately, just as some data gets stolen, for it not to end up being plans for another bridge. 
Now, the question is where (or maybe when) do they want to go? What about having someone from the future come back to 2011? This is not a completely unique idea; but it would be fun to see it done with a Eureka flair.
I was glad that Joe and Zoe made up (mostly) at the end. Hey, Zoe, if the doctor thing doesn't work out, with your gun skills and quick thinking, Jo might need a second-in-charge or partner for GD security. 
Between Jo's guts and Zoe's brains, those two could have their own spin-off. Something like, Lupo and Carter (in the spirit of Cagney and Lacey,) or maybe something more modern like Law & Order: Global Dynamics. How about something more mainstream? CSI: Eureka. 
Jim G. is a TV Fanatic Staff Writer. Follow him on Twitter.