Who knew a show with so much sexual innuendo could be so damn charming? Somehow, that's exactly what Franklin & Bash managed to pull off on season one, week in and week out, and "Go Tell It on the Mountain" was no exception.
How funny was Stanton Infeld in jail? He was rockin' a ski cap, learning the Crips and Bloods yard schedules and leading prisonyard Tai Chi classes. Loved it.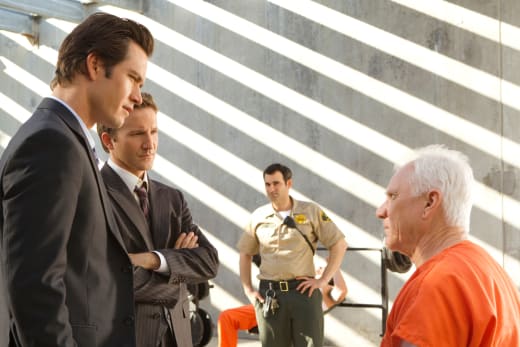 Did you notice how Karp agreed with Franklin and Bash more in this episode than in any other? I was a little shocked how quickly Peter defended Damien' skills as a lawyer, and equally surprised he was able to form coherent sentences while ogling Brett in her gorgeous bra and panties. 
Yes, while all the guys were checking out Brett, I was basically lingerie shopping.
Truly, it was nice to see the boys start to gel as a team but, really, how funny would the group hug have been?
Who knew Peter would completely freak out over seeing a corpse while Jared would be completely composed? And on what other show could you find an Encino Man reference that worked?
Nice to see Jared get the girl even though her father busted him for staring at her. Definitely some points in Jared's favor that he wasn't scared off by big, ugly, masked wrestlers and a bonus for having turned a wrestling move tutorial into a first kiss.
Even the wrestling story was kind of heartwarming, in a completely unexpected way, as Jared was adorable, torn between hitting on the daughter and saving his boss.
The only disappointment was that we didn't get to see Pindar in his Hannah Montana outfit. Excuse me, make that his Miley Cyrus costume because in Pindar's world, somehow that's better.

I'll admit that I wasn't sure about Franklin & Bash when it first aired. It originally came across as adolescent fluff and, well, it is just that. But it's also highly entertaining, charming, really funny adolescent fluff. I can't wait for it to make me smile all over again next summer.  I just wish I didn't have to wait so long.


C. Orlando is a TV Fanatic Staff Writer. Follow her on Twitter.