From a broken engagement to an elaborate identity theft scam, the MPD sought to resolve what could aptly be described as an "Identity Crisis" this week.
When I saw the previews, part of me wanted a hostage situation that became the main focus of the episode. But as it unfolded, I began to appreciate the twists and turns that plot took.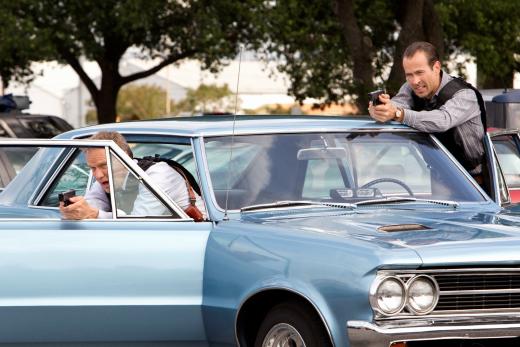 The storyline was filled with compelling and somewhat unexpected tidbits.
First, there was Paula Ann's broken engagement. She and her long-time beau had been going strong since the show first began, so for this breakup to occur so suddenly was surprising. Furthermore, I had no idea how to process the fact he'd been involved in an embezzlement scam in another state. I'm just hoping that things worked out amicably for the two, as Dwight was able to convince Tom to explain himself.
I loved when Dwight, in an attempt to comfort his mama, sang to her as she cried in the bathroom. It wasn't a club scene like we all so desperately want to see at the end, but it keeps a genuine variety in the Memphis Beat repertoire.
Another unpredictable moment this week was Whitehead undercover as a customer service rep at the rental car establishment. What a riot! The last thing Whitehead should ever be allowed to do is go undercover in a field where he has to deal with making people happy against his will.
Had that whiny customer been allowed to continue for much longer, I wouldn't have been surprised if Whitehead discharged his weapon out of frustration. However, he should consider integrating that bright red into his wardrobe; it brought out a certain edge that could liven things up.
Discussion of this episode wouldn't be complete without mention of Davey's quiet but steady pursuit of the back associate charged with helping the MPD on this case. It was clear from the beginning that he was smitten, but I give Davey props for having the courage to follow through.
Perhaps daddy Sutton isn't too far-fetched a possibility for those of us who were big fans of his stint as babysitter a few episodes back. (This includes DJ Qualls himself.)
Speaking of smitten, what was with Dwight and Roy's neighbor? Did they really hit it off in those first few minutes, or did I completely miss it? I was certainly surprised to see him back in her neighborhood. Granted, he did seem rather interested in seeing how the hamster was doing, but could there be a romance for Dwight in the future?
While the weekly case itself failed to yield much in the character development department, it sure was a rather relevant topic to tackle this season.
C. Charles is a TV Fanatic Staff Writer. Follow her on Twitter.