Dwight and Whitehead, trapped by storms in a mansion, navigated a dysfunctional society family to weed out the killer among them. Back at the MPD, Lt. Rice, Sutton and Greenback used their combined skills to identify and return a psychiatric patient to his ward two states away.
And it all happened on "Ten Little Memphians."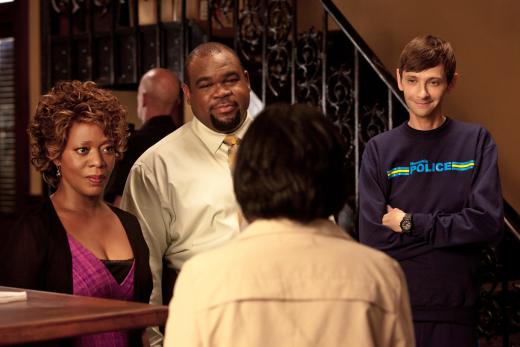 This episode could have been a lot better in both suspense and intrigue. It played like a mediocre game of prime-time Clue.
Granted, the insights into Whitehead's childhood were priceless. I enjoyed learning that he grew up in the Archer home and had such fond memories of the place. Never would have guessed that Virgil and Whitehead's mother had feelings for one another.
For someone who goes out of his way to avoid drama, it seems Whitehead had more than his fair share as a child without even realizing it. I would have liked to have seen some moments from Whitehead's past via flashbacks, as the clues used to solve the who-dunnit were pieces from those memories.
Whitehead certainly gained some closure when he was left that book in the will. This season has undertones of closure all around, most recently when Dwight laid to rest his reservations about what kind of man his father was.
But where does Memphis Beat want to go with all this closure talk?
Speaking of development, Sutton, perhaps unintentionally, pursued personal growth in his relationship with Greenback. The confrontation with Reggie about being too nice to him all the time was the first time I'd ever contemplated that Sutton might find it condescending, patronizing, or less manly to some extent. I just think people can't help but want to be nice to Davey given how kind he always is to others. I couldn't see myself yelling at him if he made a mistake. Could you?
Rarely do we see Sutton express himself in such an assertive manner. It certainly made for some funnier moments later on. Sutton managed to make those MPD-issued sweats look good, and they fit him well without anyone's help. I think I may have a small crush on DJ Qualls' quirky character.
One quirk I especially appreciated about this episode was Paula Ann at the precinct. Her presence is not a new thing to anybody, but the fact she restored the generator on her own was amusing.
We also had Andre Royo as a guest star, good ol' Bubs from The Wire. It was a pleasure seeing him back in primetime.
Memphis Beat stayed true to itself in restoring another club scene at the end with Dwight singing his heart out. Loved seeing his autograph sharpied on the wall. Very cool to witness it amongst the other artists that had played there, fictional or not.
It was a solid episode that could have done better. But there's always next week... Which brings us to a season finale! Where has the season gone? I can almost feel the withdrawal setting in.
C. Charles is a TV Fanatic Staff Writer. Follow her on Twitter.