What makes a man crave meat and hate government with such equal passions? We'll get an idea on season four of Parks and Recreation, as the show will introduce viewers to the woman responsible for making Ron Swanson the funniest character on television.
His mother!
Also named Tammy, Mrs. Swanson will be portrayed by Paula Pell, a writer on Saturday Night Live and 30 Rock who has appeared on both of those programs.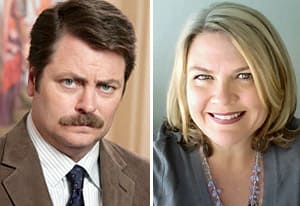 We'll meet the first-ever Tammy early on season four, while the sitcom has also cast Ron's ex-wife, Tammy. She'll be played by veteran actress Patricia Clarkson.
Megan Mullally, of course, will also show up again as second wife... Tammy.