Rizzoli & Isles dove into its New England roots this week, as "Bloodlines" provided us witches burned at the stake and one who sat across the dinner table. Let's start with the witch with the cheap dye job.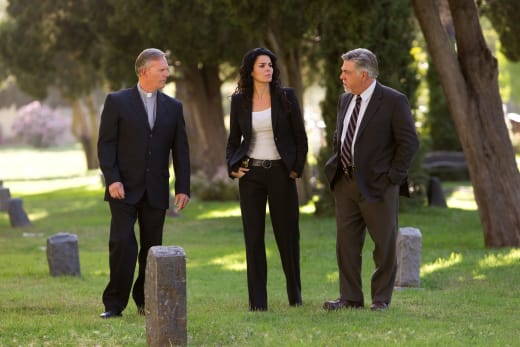 I couldn't believe Theresa. So did she honestly not know who the father of her child was or was she simply scamming Frankie? They never let us know if she was irresponsible... or the biggest witch on the planet. 
Of course, as much as Angela wanted a grandchild and Jane would have loved to have been an aunt, they all wanted confirmation. Therefore, they did what any meddling family would do. They stole things and snuck them to the lab for DNA testing. Yeah, that's love, in its own weird way.
It turned out no one was giving Frankie nearly enough credit. He'd gotten screwed over by Theresa one too many times and he wasn't taking any chances. 
I was hoping that Lily was his since everyone instantly fell in love with the little girl. Frankie would have made a great dad. Plus, how much fun could it have been watching Jane and Theresa go at it over family dinners?
The best part was this: despite the amateur stake out and the stolen sippy cup, when the bad news came back, Jane was there for her brother. From the childish bickering to the makeup hugs, these two make a wonderful brother/sister team.
The witch killings were creepy, but I found the seance laughable. I hope it was meant to be humorous. Naturally, I'm the skeptic who has never touched a ouija board, so I may be a hard sell.

I enjoyed the bits of history they threw into this story. I didn't realize that it's been speculated that some of the women killed as witches may have been mentally ill. That just makes the tale that much sadder and more horrifying.
On the up side, I loved Korsak as an animal lover. We had the bird last week and now the orphaned kitty. He wasn't even upset about the stitches on his nose. What's wrong with pink claws anyway?
And Korsak made Frost do the new guy grunt work even though he's been on the team for two years. I suppose you're the new guy until the next new guy comes along. Looks like it was time for Frankie to start knocking down some doors, literally.
All in all, it was another fantastic, funny, charming episode of Rizzoli & Isles and, as usual, I can't wait for more.


C. Orlando is a TV Fanatic Staff Writer. Follow her on Twitter.