You know when Maura Isles hides something important from her best friend, there's something off. That something would be Maura's wandering lover, Ian, and he sent Jane's cop senses pinging.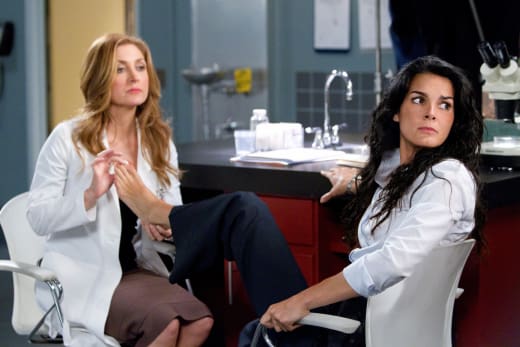 "My Own Worst Enemy" gave us a glimpse at Maura's softer side. When Ian showed up on her doorstop you could practically here her heart rate go up. The girl was beaming. 
Yet Ian's presence put Maura in a bad spot. The love of her life smuggles medical supplies into poor African countries. Humanitarian? Yes, but also illegal and having a cop for a best friend meant that Maura's at a crossroads every time Ian shows up.
My heart broke for her when she finally came clean with Jane. She considered Ian the love of her life that she will never be able to be with.  It was the essence of a tragic love story but Maura Isles deserved better.
This week's murderer wasn't a huge surprise. As soon as the son got off with just a pistol whipping I knew he was somehow involved. 
I loved that the dead rats led the way to the drug smuggling operation. Don't ever underestimate those little rodents. Soaking the shipping blankets in liquid heroin was brilliant. No one would look at them twice in a shipping container. Unfortunately, the rats thought they were tasty.
Jane's CI was great fun.  Every time he called her "Detective Vanilla" I couldn't help but laugh. How many people do you think Jane lets get away with that. He must give her some very useful information.
What was with the toe fetish this week? Between Korsak's fungus and Jane's hangnail I was kind of grossed out. Then Ian did minor foot surgery on Maura's kitchen island. I hope they disinfected that counter top afterward.
Angela went a little crazy with the label maker and then she threw out Maura's shoeboxes. Between that debacle and Ian leaving it was no wonder that poor Maura was in tears.

Because the episode opened with Maura keeping secrets, I was happy it ended with a best friend hug. It meant all was right in the world of Rizzoli & Isles.
C. Orlando is a TV Fanatic Staff Writer. Follow her on Twitter.