There was a lot going on in the Hamptons on"Ta Da For."
We had Hank's quick treatment of Andy the Magician's burn wound, via honey and plastic wrap. Then, there was Evan's quick and painful revenge on Hank with The Today Show taping.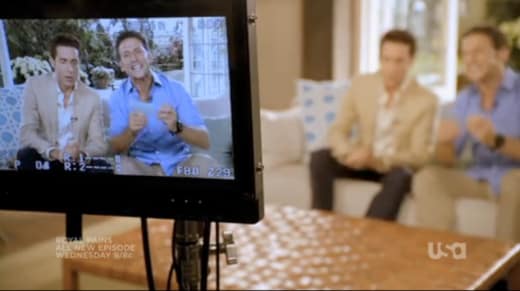 It was hard to watch Hank crash and burn during his interview. Granted, it wasn't live, but, at the time, no one really knew that.
I was surprised to learn that Hank has a public speaking phobia. He clearly knows what he's doing as a doctor, so it only seems natural for him to be able to speak that back to anyone, interview or not. But he just froze.
If anything, this just proves that you should never dish out more prank than you can handle.
Evan may have lost his chance at Today Show fame, but with a video of the Jitney crash rescue on video and viral, there's always the potential for someone else to pick the story up, and skyrocket the small-business-that-could to stardom.
I applaud Evan's persistence in his pursuit of Matt Lauer. He knew everything about him, which, while borderline stalking, also proves he has an eye for detail and detective work. If Evan wasn't CFO of HankMed, I'm wondering if he would have become a detective or something.
Lauer was a fun addition, wasn't he? He was funny, and his penchant for unintentionally awkward comments was entertaining. I only wonder if it's reflective of real life. Does he really spend time in the Hamptons? I suppose we'll never really know, or shouldn't find out, so real life folks can't stalk him.
Divya's run-in with the Hamptons Heritage bureaucracy was an interesting twist. It didn't occur to me how the rules would change for Divya and the practice of medicine upon taking shifts there. It's reasonable, but I would have worried about the health of the patient had she waited.
Clearly, she made the right move, even Dr. Van Dyke recognized that. Speaking of which, did he really just hit on her? That was my take.
Of course, maybe I'm just a fan of the idea of Divya getting back in the game, even the dating game, if that's what the writers have in mind.
As for Jill's talk with Boris, was I the only one to think he was being a complete jerk about her coming to him? How dare he suggest she was hallucinating or making it up?!? She wouldn't have the nerve to disrupt him if she wasn't sure.
It does seem, however, that my prediction about someone trying to hurt the child and Marissa was spot on. Gotta figure we're in for more in that regard next week.
C. Charles is a TV Fanatic Staff Writer. Follow her on Twitter.