Well, I did not expect that opening scene, did you?
It never even dawned on me that Brian could be right around the corner of Chloek's kiss, nor that Alek would have such a negative reaction to Chloe saying the kiss "was nothing."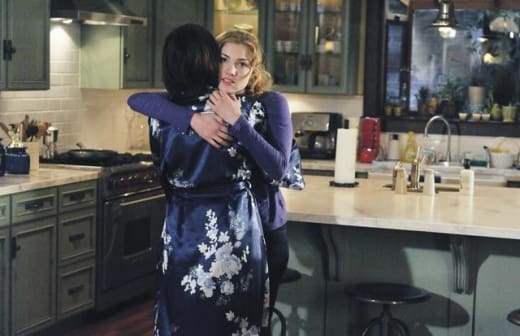 To top that off, like Batman in Gotham, Chloe heard something, got involved and the police ended up her house, putting Meredith into mama bear overdrive. There was so much unsaid between them to start, including her heritage and messages to and from her father, that Meredith knew something was wrong.
Instead of letting her in, Chloe managed to keep her secrets again, making the chasm between she and her mother just a little bit deeper.
Alek's behavior after Chloe's reaction to their kiss was that of a typical bad-boy with a crushed heart. He did the only thing he could to protect his pride and his softer side by pushing her away and acting with bravado, leaving Chloe more confused than ever.
I am such a sucker for boys who protect their heart by lashing out. "Heartbreaker," indeed, as Chloe had two boys lashing out in self preservation in relatively short order.
When Chloe saved Meredith's life with absolutely no effort or forethought, you had to wonder if it might be the tipping point to Meredith questioning the bigger secrets her daughter had been hiding. Despite Meredith trying really hard not to be that mom, her first thought was drugs. I had to laugh, as anyone who has a mom has heard that same question.
If only doing drugs was the answer to all of life's problems. Seems it would be easier to kick than dealing with some of the real issues, especially the ones Chloe now faces on a daily basis. I'm sure even she wished that a stint in rehab would bring back her old life.
Good work with Brian introducing his obvious date to Chloe as a friend, just moments after telling her she didn't know the meaning of the word. He literally left her questioning whether she did.
I had my hands in front of my face during the scene of Meredith confronting Chloe about her father. There is such love between them, and to witness the pain and distrust gaining ground during the incident really hit me hard. I so wish that Chloe could just tell her mother the truth about everything so they were true allies instead of steeped in secrecy.
I don't see that happening any time soon, especially after Alek shared his own story about telling his adoptive parents he was Mai. The lesson he learned is that once the cat was out of the bag, so to speak, she can never be human again. That's a huge decision to make at 16, even if you have eight lives left to live.
It was so cool when Chloe was hiding on the ceiling as the bad guys wandered below her. And I cannot get enough of that Mai cat stance when they land from high above, one leg bent and the other stretched out to the side. I want to somehow incorporate that awesome position into my daily life. Maybe during a meeting at work? 
In the end, I am still Team Chloek. Brian continues to sort of drift on the outside of Chloe's life, and their differences seem impossible to breach. That is not to say that I wouldn't feel as torn as Chloe.
It's almost as if the two boys represent the two different sides of her life, giving into her Mai heritage or maintaining her humanity. As the Uniter, however, does she really have to choose, or is the process of making that choice the true path of the Uniter?
Carissa Pavlica is the managing editor and a staff writer and critic for TV Fanatic. She's a member of the Critic's Choice Association, enjoys mentoring writers, conversing with cats, and passionately discussing the nuances of television and film with anyone who will listen. Follow her on Twitter and email her here at TV Fanatic.