True Blood can't really kill off Jess, can it?
I've longed for the show to trim its roster for seasons now, as there are simply too many characters and too many storylines. There's also a severe lack of consequences - in the form of significant deaths - for a series that treads so deeply in blood, gore and the supernatural.
But... not Jess! She's the one individual whose been underused through the years, and I've been digging the possibility of her and Jason getting together.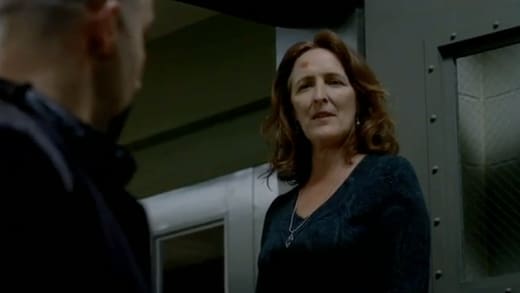 I can't imagine the show actually kills her off. Jason is right outside the front door, after all, and it takes more than a few rays of sunshine to end a vampire. It's nice that no one actually knows the answer (Jess was not a character in the book series), and I can't say I'd truly be upset if she does perish. It would certainly add a surprising jolt to the series, wouldn't it?
Overall, "
Cold Grey Light of Dawn
" moved pieces and characters into place for the second half of the season.
Granted, there was A LOT of talking - the exchanges between a chained-up Bill/Jess and Eric/Sooke dragged on - but the episode did a strong job bringing arcs together, as Tara is now teamed up with Antonia/Marnie, and, just like Arlene's baby, Lafayette is seeing singing black women out of nowhere. Sam and Tommy? Ummm, well, they are simply still around.
Let's return to Eric and Sookie for a moment, though, and a point my colleague brought up in last week's True Blood Roundtable: doesn't getting the two of them together in this manner feel like cheating? Sookie admitted here that she'd never have hooked up with the old Eric, which is what so many viewers had been clamoring for. So that problem is solved by erasing his memory and making him into the sweetest supernatural being since Casper?
Is this really the payoff Team Eric members had been hoping for? I'm legitimately asking: if you've been wanting to see Sookie and Eric as a couple, does the result feel cheapened by this development?
Elsewhere... poor Pam! While that blood sucker has mostly been known for just delivering a few winning one-liners here and there, she's become a truly enjoyable, sympathetic character. I felt awful for her tonight. Paging, Dr. 90210! TV Fanatic will foot the bill if you can fix our gal.
A few notes before I turn this over to your comments:
You call that an initiation, werewolf pack? Where were the keg stands? The naked runs? I suffered through more to officially join my rugby team in college.
Sorry, crazy Debbie. But did you notice that Alcide said he only loves one woman... but didn't specifically cite you as that woman?
Andy, your main mistake wasn't the lack of V intake. It was going on a first date with someone at the locale in which she works. Poor form, dude. You were doomed from the start.
Come on, HBO. TMZ gets a shout-out when Pam is about to kill Tara? We all know what the top celebrity gossip site around is, don't we?
Not much to even say about Fiona Shaw at this point. She was excellent before as a confused Marnie, and she's even better now as a vindictive Antonia. Really enjoying this villain and the way the resurrection storyline is being built up.
Nice touch by the show to have Pam and Jessica's fangs exposed as they were being silvered and skinned.
What did everyone else think? Do you wanna see Jess killed off because it would take you by surprise? Or would you miss her too much as a character?
Matt Richenthal is the Editor in Chief of TV Fanatic. Follow him on Twitter and on Google+.