Despite the intense drama surrounding Keller's reappearance, this week's White Collar had me "On the Fence" as to whether or not it underused the ever talented Eliza Dushku.
White Collar is no stranger to high profile guest stars, but Dushku than we saw here, which made her single-episode spot leaving me wanting more. A lot more.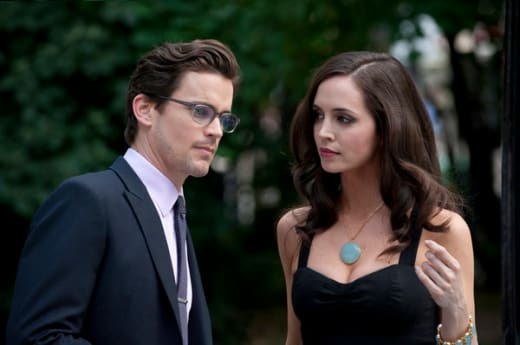 However, as the plot thickens in its trajectory towards the summer finale, the outing pulled the full weight of every episode before it forward, causing some compelling and complicated conflicts to come to a head.
Neal's solo journey to determine his own destiny in exerting control over the U-boat treasure has now led to a breakup with Sara, and emerging fallouts with both Peter an Mozzie. Not to mention that Neal was almost shot dead by Keller.
Furthermore, Neal withholding from Mozzie his findings from the Burke household had them both in a tizzy in the episode's final minutes.
Neal failed to calculate for the factors beyond his control. He can only con so many people at once, and when each one is a moving piece, it's hard to control one at any given time. I think if Neal learns that there are circumstances beyond his control, and it impacts him in a big way, he may finally get some clarity.
Sara is a good example. Not only is she a strong-minded woman who can hold her own, she is also vulnerable in that she had no idea Keller was posing as INTERPOL. Keller could have easily shot her dead right there. Neal had never shared anything about him with her.
Then, there was the back and forth between Neal and Sara, both at the beginning and the end of the hour. It's clear that Sara and Neal have something neither one is sure they want to give up, nor do they have the ability to confront and get a handle on.
With Neal unsure of what he wants in life, it's hard to see anyone being able to find a way to fit into a life that essentially doesn't exist.
Perhaps the most shocking part of this episode for me was Mozzie's plea to the priest to find a hitman to carry out his hit on Keller. I had never seen Mozzie more sober and almost... evil. It was kind of scary. His grief was understandable, but the way he fenced the painting without consulting Neal (like it would have really made a difference to consult Neal anyway) made for an intense moment.
I can't believe Keller managed to get away. At least he got shot, but the fact they almost had him in custody was heartbreaking in a sense that's he's in the wind once more. Who knows how long it will be before he shows up again - and how long before they catch him for real?
As for Dushku's performance, I was expecting more action and from her involvement. She's a bit of an action star, so I looked forward a fight scene or something. Alas, no fisticuffs. She still gets major props for being the beautiful temptress and for acting what was given her to the best of her ability.
I'm starting to wonder how I feel about all the lying that's going on. Peter doesn't lie to Elizabeth, yet he blatantly refused to tell her that Keller was back in town. It seems some of Neal's skills have rubbed off on Peter in ways he may not even realize.
Either way, with the Degas in the hands of a fence and new owner, how can Neal and Mozzie get it back, or can they? Is their relationship on the brink as well? How much farther does Neal have to fall?
With next week's episode being the summer finale, who knows if any of these questions will even be answered. What did you think of this week's episode?
C. Charles is a TV Fanatic Staff Writer. Follow her on Twitter.