Rizzoli & Isles is about to make like The Thomas Crown Affair.
That's how Colin Egglesfield described his return to the TNT hit this Monday night, as Tommy is released from prison, crashes at Jane's house and gets close to Maura.
"They play chess together and there are some intense battles," Egglesfield told me. "They develop chemistry. There's a lot of sexual tension there, although Maura is a little hesitant to pursue anything."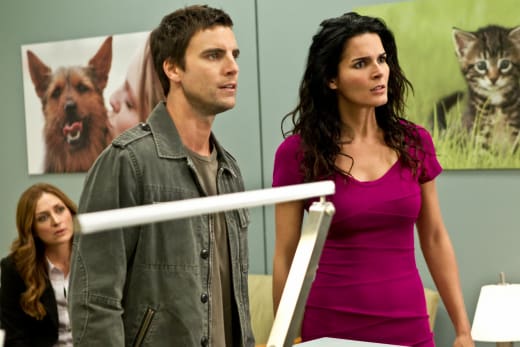 Aside from some serious flirting, will Tommy get back into a life of crime? The actor would only hint at what's to come Monday and on a winter episode for which he's also booked.
"There might be some criminal activity," he said. "But is he falling off the deep end? Is he running with the bad crowd again? Or is he just at the wrong place at the wrong time?"
There may be questions surrounding Tommy's future, but there's no questioning how much fun Egglesfield says he's had on set.
"Angie is always amped up, she's like the Energizer Bunny," he said of one-co star. "I don't know if she drinks 20 cups of coffee everyday or if that's just her personality."
Sasha Alexander, meanwhile "is a little more low-key, but she has a wicked sense of humor. She's always cracking jokes before a take, it's hard to keep a straight face."
Check out the official preview for this Monday's Rizzoli & Isles and then return to TV Fanatic soon after it airs for a detailed review.
Matt Richenthal is the Editor in Chief of TV Fanatic. Follow him on Twitter and on Google+.