After last week's barely passable episode, "Overclockwise" provided a much needed resurgence in the comedy department.
It was fun to have Cubert back for another episode, even if there was no Awesome Express. I especially loved watching him, Bender, and Fry play "World of World War II 3."  It was such a great spoof on video games and the culture of it.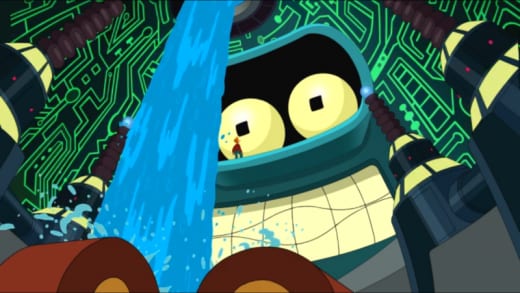 One thing that has to be taken into consideration for "Overclockwise" is that it might have had to serve as a potential series finale if Comedy Central didn't order another season. The series had to deliver closure of some kind here.

Which was why we got as much as we did between Fry and Leela and their relationship. While I was laughing hysterically watching Leela be overly dramatic and making everything feel like it was a soap opera, I was happy to see there was quite a bit of poignancy, too. Especially when Bender wrote down their future together. I'm not going to lie, I got a little choked up watching the two of them read the letter together.
That emotion was quickly squashed with the two of them slapping each other, though.

Finally, there was Bender, who stopped being illiterate for twenty minutes, and instead was able to burp out entire galaxies (two if he ate broccoli!). I was happiest when he used his powers for evil, directing Zoidberg into the paths of falling ceiling fans.

Overall, if this was the last episode of Futurama ever, I would be satisfied. Thankfully, it's not and we get to enjoy Planet Express for at least another season. And you get to enjoy our collection of Futurama quotes right now!