Welcome to the 172nd Gossip Girl Caption Contest at TV Fanatic, where readers submit their best caption(s) for a photo from the CW drama! Ready to flex your creative muscle? Let's do it up.
This week's Caption Contest winner, based on the photo from the Season 5 premiere, "Yes, Then Zero," airing Monday, September 26, is iwatchtoomuchtv. Congratulations and well done!
Honorable mentions go out to brittmli, Kylee Pyle and queenbee94. The winning entry appears below. Thanks to all for playing, and best of luck again in next week's Caption Contest!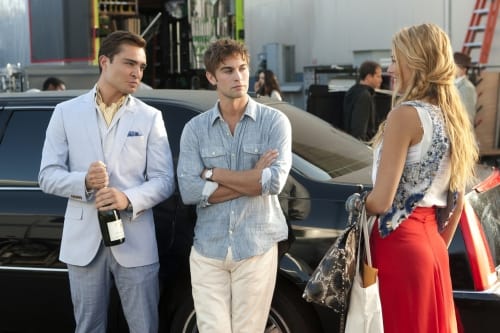 Serena: Everyone in Hollywood reinvents themselves.
Nate (whispering to Chuck): So this is where she got the nose job?
Chuck: Yes, but more importantly the boob job.
Steve Marsi is the Managing Editor of TV Fanatic. Follow him on Google+ or email him here.