Ha'iole: Unbreakable, inflexible, stubborn.
The second season premiere of Hawaii Five-O reminded us why Steve McGarrett and his team are truly "Ha'iole."
If May's first season finale - with Steve being arrested, Kono on suspension, and Chin Ho back with HPD - left you on the edge of your seat and made you think this episode was going to let you relax like I did... then we were both wrong!
So much happened in the first hour of this season. Let's break down what we learned ...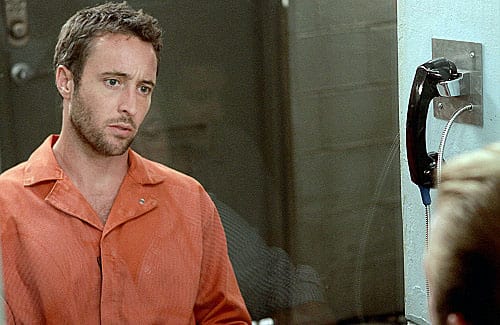 Five-0 is Reinstated: Thanks to the Lt. Governor (Richard T. Jones), Steve, Danny, and Chin Ho are back on the job, but with some restrictions. They don't have the total immunity they had before. Personally, given some of the outlandish stuff last season, I'm okay with it being brought down a notch or two it was getting into the realm of not believable.
Kono is still Out: While most of Five-0 is back, Kono is still under investigation for the money that was taken. Personally, I found it poetic that in the same episode that Chin Ho was offered his job back, Kono went under the gun. And, given that she took the money, this one may not turn out as well, but only time will tell for sure. 
Max Bergman, PhD: If you didn't catch the opening credits, Max Bergman (Masi Oka) was shown as a regular cast member. I love the injection of a "little geek" to the show by seeing his private life. I didn't like Bergman when he was first added last year. After seeing his "Warp 9" license plate and Enterprise key chain, I fully approve!
RIP Victor Hesse
: Victor turned out to be the definition of "my enemy's enemy is my friend" as he helped Steve out of prison and it cost him his life. I'm sad to see Victor is really dead this time, given how fun James Marsters has been. Ironic that Season 1 and Season 2 both opened with Steven and Victor fighting.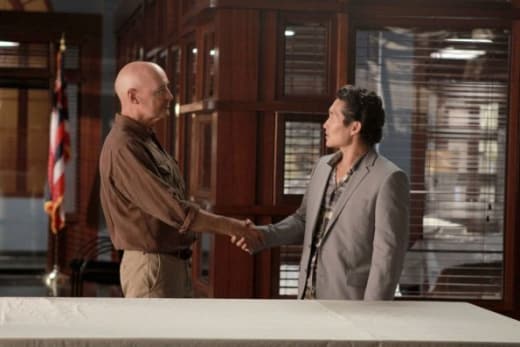 Hello Lt. Cmdr Joe White: I will freely admit I have had a man-crush on Terry O'Quinn since the first season of Lost. And Joe White is not any different. His confident swagger and mentoring father-like quality in this hour made me cross my fingers that he will be on the show for a while to come.
Danny/Rachel Breaking Up: I'm sad for Danny that the baby was not his and Rachel is going back to Stan. However, given that Claire van der Boom (who plays Rachel) is not listed for any episodes this season (yet), I suspected the writers were going to move away from that plot line. BOOO!!!
Jenna Kaye working for Wo Fat: In what had to be the biggest shocker in the last minute of a show, seeing Jenna behind the wheel of the car that picked up Wo Fat nearly put me on the floor! I loved her quirky-geek-girl persona and was really hoping we would see her as a full blown Five-0 team member. Now I just hope they discover her quickly!
It is going to be a long week until next Monday to see what happens next. I'm not sure how they are going to keep up this pace. However they do it, all I can say is: welcome back Five-O. We missed you.
Jim G. is a TV Fanatic Staff Writer. Follow him on Twitter.