At Comic Con in July, I had the pleasure of interviewing Nina Dobrev, Paul Wesley, Joseph Morgan and Candice Accola on The Vampire Diaries video line.
Alas, with time running out before the show's panel discussion in front of thousands of fans, Ian Somerhalder never made it down to me. I spotted the actor at a roundtable with other journalists, however, and walked over to place my tape recorder in front of him.
Somerhalder greeted me with a fist pound, pulled a chair over next to him for me and proceeded to answer questions with insight and passion. Excerpts from the interview are below.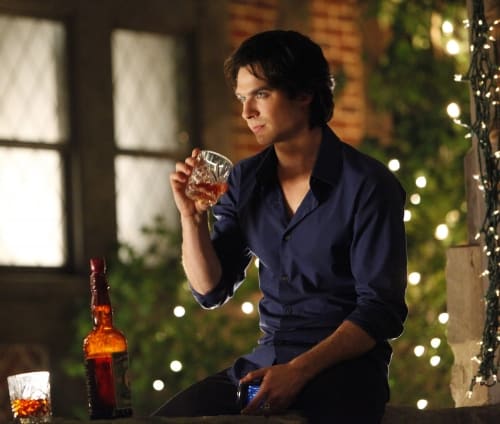 Will we see a new Damon on season three?
He's fighting against what he truly is, and that's what makes the story dynamic. He is an anti-hero. He doesn't know how to do all this stuff, so I think he's going to have some trials and tribulations.
Ultimately, he's not happy with the way things have turned out. He tried, for two seasons, to get his brother to do what he wanted him to do, which is to be what he is. He wants them to just eat and destroy everything in their paths. Now, Stefan is running around with a guy that Damon hates and tried to kill him.... He's just sitting there, thinking to himself, "This sucks!" But, I think he's going to rise to the occasion.
What about the finale kiss between Damon and Elena?
I keep hearing about this "passionate kiss." I don't know if anyone saw, but he was also pale white, sweating profusely and bleeding. There wasn't anything very passionate about it, so I don't know how much I would read into that, although I do know that he remembers it.
How does Damon's struggle mirror that of the actor?
A lot of stuff that Damon goes through is super-cathartic for me, as an individual, and it's not always pretty. You're muddying the water, all the time. You're pulling from all these things in your life that are not necessarily good. It's basically like getting paid for therapy. Instead of laying on someone's couch and telling them about how you feel, you're internally pulling all this stuff.
The Vampire Diaries returns on September 15 and you better believe TV Fanatic will cover every development of the premiere with a detailed, in-depth review.
Matt Richenthal is the Editor in Chief of TV Fanatic. Follow him on Twitter and on Google+.