It's Always Sunny in Philadelphia Review: "Frank Reynolds' Little Beauties"
Arlene G. at . Comments
If only child pageants were as twisted as "Frank Reynolds' Little Beauties," maybe I'd give them a gander every now and then.
The gang went on a rant this week about America's creepy obsession with the Toddlers and Tiaras bunch. I couldn't decide which was funnier...that Frank was basically the same size as the kids, or Mac on stage with his muffin top popping out the bottom of his turtleneck.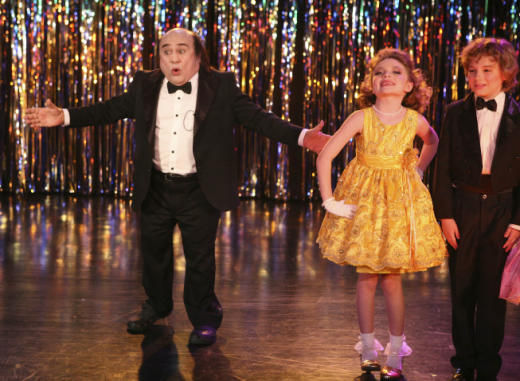 I think I'd have to go with Frank MC'ing the pageant looking like a troll-sized corpse, followed by the guys turning Yankee Doodle Dandy into a tween rave anthem.
And Artemis was back. YES! She had to get high to run a sound board but it seemed fitting. That girl lit up every scene she was in. Pun intended.
Seizing the opportunity thrown in his lap to host a beauty pageant, Frank dove right in without thinking about the consequences. Mainly that you can't ogle six-year-olds in bikinis without being branded a diddler. Especially when you run around with a bleeding, busted-up nose, look highly suspicious and keep trying to convince everyone that you're NOT a diddler.
Trying to legitimize the shenanigans, the gang got all hopped up on it being an inalienable right as Americans that kids get tarted up and trotted out like display ponies. Charlie became the stage director from hell ("I see trash"); Dee saw her chance to get back at every stage mother in existence ("moms are a pain in my vagina"); and Dennis and Mac jumped at the chance to dress like a low rent version of Devo and become a part of the stage antics.
Of course Charlie, Mac and Dennis couldn't let an opportunity to put their mad stage skills on display go by. If they could pass off Nightman as an innocent play about a boy, Yankee Doodle Dandy being turned into a highly inappropriate kids performance was a piece of cake. Especially if the femme little boy they backed as the dark horse winner was totally into it.
Dee was no better. Trying to work out her own childhood pageant angst, she turned little Justine into a horse-toothed freak and became a crazed stage mom herself. To the point where she was actually IN the pageant. Classic.
But the best had to be Frank getting busted with his mike on talking to his cretin buddy the mortician about banging dead bodies. Hey, when you're dead, you're dead, right?
In the end, Walter the "inspector" got pinched as the true diddler, which brought Frank some much needed relief. The parents, however, couldn't have cared less that a child molester had been in their midst. They still wanted to know who won. And that right there was the zinger.
Dennis was right when he said beauty pageants are an American tradition. Just not a proud one. But, as far as I was concerned, anyone watching the gang twist tradition on its ear had to be proud and that was something to chant about. USA! USA! USA! Keep the laughs going and check out some Sunny quotes now!