NCIS: Los Angeles Review: "Cyber Threat"
Steve Marsi at .
Kids these days.
This week's episode of NCIS: Los Angeles found the team scrambling to manage a "Cyber Threat" and find a kidnapped man - who was not only abducted because of his pre-teen son's surprising sophisticated hacking ability, but later saved by his tech-savvy progeny as well. Talk about redemption and coming full circle.
Hopefully Hetty keeps tabs on this wiz kid, Eric could use an intern.
The premise of the case was that software CEO Dennis Calder was kidnapped just before he was to be questioned by the NSA regarding his involvement in a cyber attack on the Department of Defense.
The team was called to find Calder and thwart a cyber attack that could pose a serious threat national security and - if I understand this correctly - to figure out if Calder was behind the original attack.
When someone logs into Calder's home security system from afar, Kensi and Deeks (hilariously, as a tennis instructor) go undercover to protect the family. That's when Kensi gets to know Shawn.
Having given up on his relationship with his absentee dad, the kid has become something of a computer-obsessed loner. One with enough chops to successfully hack foreign government agencies.
One of which is responsible for his dad's abduction.
With Eric leading the way (the whole case was very much in his wheelhouse), the team realizes the Chinese took Calder to attack the DOD as retaliation for Shawn hacking them. Confused yet?
After a daring and complicated rescue, the NCIS agents raid the building where the Chinese agents - later disavowed by the government - had been hiding Calder, returning him safe and sound.
While the case usually takes precedence, it almost the backdrop for all the inter-office turmoil going on in this episode, during which Hetty was almost totally absent ... and yet not at all.
Without Hetty, there's no NCIS: LA, so thank goodness she survived. But without her running the show in the flesh, the team feels as discombobulated as viewers would without Linda Hunt in the cast.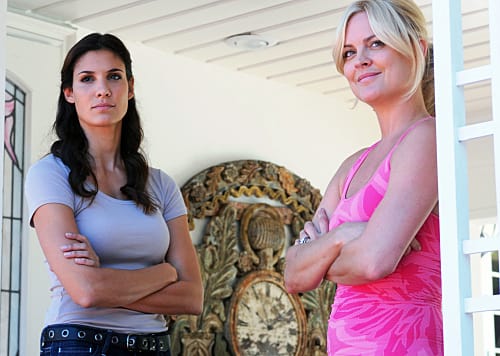 She's clearly the ultimate fly on the wall, running the show via technology and Nell Jones, who did her best to carry out her boss' bidding, and showcased her considerable talents throughout.
Multitasking doesn't do justice to what Nell has on her plate, but whether she was harassing Deeks to do his paperwork or donning a hard hat and vest undercover, she killed it. I heart her.
Hunter I don't like nearly as much. Claire Forlani needs to work on her American accent, first of all, but the character just feels off to me, as if she's intentionally out of place among the group.
I suppose that's likely the point, and things obviously can evolve over time. But she makes absolutely zero effort to be liked and that clearly doesn't sit well with Callen, especially after Romania.
Between Operation Comescu, the void left by Hetty's absence and G's distrust for ... well, everybody, the tension between himself and Hunter ran high and led to some of the episode's best scenes.
In the end, Callen proved he's still deferential to Hetty, however. He could have opened the classified envelope right then and there, but set out instead to find out who he is entirely on his own.
Was it because he trusted Hetty's judgment in not revealing its contents to him for good reason? Or because he doesn't trust her or anything he'd learn from the file anyway? Perhaps a little of both?
Questions for another time. A few closing thoughts on this solid episode:
Obviously we want her back in the office ASAP, but watching the characters' reactions when she pops up on electronic devices with impeccable timing did provide for some classic moments.
Deeks went to law school?! That's even funnier to picture after seeing him in those shorts.
"Borderline panic, converging on controlled hysteria." - Eric summing up the case best.
You gotta love Sam holding out on drinks until after Kensi offered to pay.
What did you think of this week's NCIS: Los Angeles? Discuss!
Steve Marsi is the Managing Editor of TV Fanatic. Follow him on Google+ or email him here.