Everyone was busy NOT sleeping with one another on the latest Necessary Roughness. Indeed, "Baggage Claim" gave us very little action, yet a whole lot of potential for more.
TK's in love or at least as close as TK has ever been to it. But Vivica wouldn't sleep with him. Smart girl, considering TK's known to go through women like the rest of us go through tissues. He couldn't remember the last time he'd had a date that didn't end with breakfast.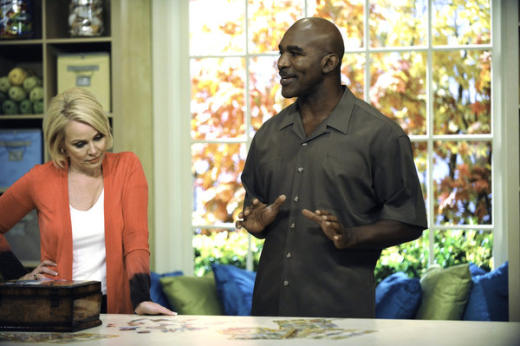 TK was so confused he not only talked to Dani but he even went to Matt for advice.
I've grown to love the scenes between Matt and TK. Have you ever gotten the feeling that the actors were having a great time at their jobs? That's every scene between these two characters and their sense of fun is contagious.
I couldn't believe that Ray gave Dani a singing bass when they got engaged. No wonder they're getting divorced. 
I've waited all season for Dani's mother to grow on me but it just hasn't happened, which is a shame because I generally like the actress. There's just something about this role that's turned me off.
Elsewhere, the patient of the week was the Martha Stewart of hoarding. Heck, even the stuff she hoarded was all so well organized and labeled. I wish my storage room looked so good.
So what was with Nico and Mrs. Pittman's torrid non-affair?!? Nico didn't sleep with her. He said he'd spent the night in the chair but it sounds like it's happened in the past. Was anyone else wondering if he felt attached to Juliette solely because of his feelings for her mother or could there be another reason? 
And finally the chemistry between Dani and Matt was back full force. It had been missing for half the season and I'd begun not to care about the couple but it didn't take much to get me back in the game. That kiss he gave her, as though he had to ramp up his courage to do so, was sweet and had just enough heat to make me want to see more.
So with one more episode of Necessary Roughness left, it's time to ask again: Team Matt or Team Nico? Will the latter pull off an upset on the finale?
Who do you want Dani to date?
C. Orlando is a TV Fanatic Staff Writer. Follow her on Twitter.