Pretty Little Liars may be off the air for a few months, with the exception of a unique Halloween installment, but creator Marlene King has given fans a reason to smile.
"We have two new Rosewood hotties coming to town," King tells The Hollywood Reporter.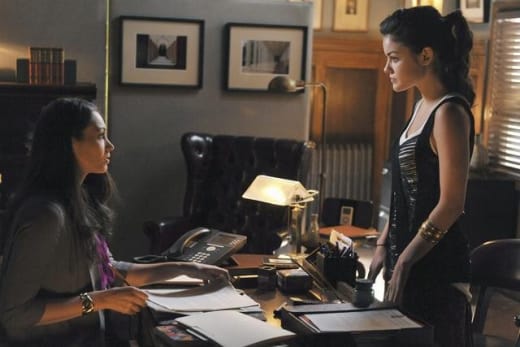 We'll meet a childhood pal of Aria's in 2012.
We've already discussed one: Shane Coffey, who will debut in January as the son of Byron's former colleague.
"We find out he's been away from Rosewood for a while, but he's returned to town and he was Aria's childhood friend," King says. "He's the first guy we're casting as our male pretty little liar."
Elsewhere, Alexander Nifong will appear as a character named Sam for at least one episode.
"He plays a blind student at the blind school where Jenna did her rehabilitation in Philadelphia," King says, "and he's going to play a significant role in the show."
Wait, so does this mean Jenna will NOT undergo sight-correcting surgery? No, she will go through with it, the producer teases. But it will remain a "mystery" whether or not the procedure is a success.