Project Runway Review: Dominatrix Wear or TeleTubbie Inspiration?

Christine Orlando at .
"The Art of the Matter" threw two very real challenges at our designers. First, they had to work with kids. Second, they had create an avant garde look the judges would love.
How could you not find these teenage art students inspiring? They were so into this challenge, but some more than others. Wasn't it fun to see how quiet Tim got when Sky told him all about Viktor's outfit? She didn't leave much room for input and, in a Project Runway first, Tim didn't give any. I wasn't sure if he was being polite or if he had no idea how to handle the vocal, opinionated young one.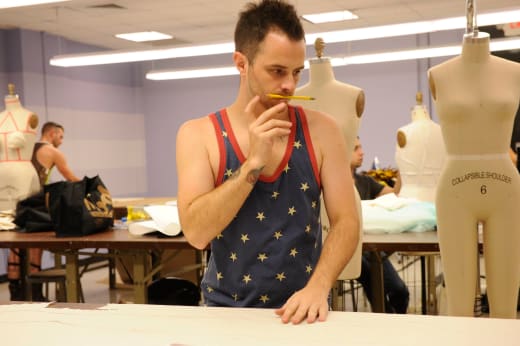 In a surprise move, Bert and Anthony decided to bury the hatchet... and not in one another. Bert even opened up to the other contestants about his late partner who had AIDS. It made Bert seem a little more human and a bit less of an ass. Unfortunately, it didn't help his outfit.
What was up with that thing? It looked like a maternity outfit for a cartoon character. I know this was suppose to be avant garde but I couldn't imagine anyone choosing to wear this.
And Oliver nearly got busted for cheating when he decided to glue his top to the model's chest when it wouldn't stay up on it's own.
Designer Kenneth Cole was this week's guest judge and Marie Claire's Senior Fashion Editor Zanna Roberts Rassi (I love that name!) sat in for the missing Nina Garcia. Here's how the top and bottom shaped up:

The Top 3:


Josh M was in the top again with his burning toxic tree inspiration. Had to admit it was a cool looking dress, minus the model's crazy hair. And like Kenneth and Michael I loved the painted skirt with his late Mom's initials.
Laura's fairy rose dress was a little too peachy and poofy for me but Michael and Heidi loved the contrast of the hard corset under the soft fabric.
Anthony's paint stroke inspired dress wowed Heidi as she deemed it sexy, modern, and simple yet powerful but Kenneth thought it looked a little too homemade.
And on the Bottom:


Josh C found his way back to the basement when his wolf painting turned into a cross between a Vegas hostess and a hooker. Never a good look.
Bert's weird geometric pantsuit was a little too outside the box. Kenneth said it looked like something a Teletubbie would wear to a party. Now I think that's a Project Runway first. Perhaps Bert took the kid's involvement a little too seriously.
Oliver, who started so strong, continued to fall. The skirt looked cheap, the colors were sad, and the overall look was boring. Quite a contrast to the brightly colored painting that inspired it.
After hearing the judges debate, I really thought Josh M was going to walk away with the prize ,but somehow top honors went to Anthony's paint stroke technique. I suppose it was more avant garde than the rest.
And on the bottom... well, Josh C's second chance didn't last long. When Kenneth Cole compared his look to dominatrix wear, I knew he was done. Love you Josh, just not your clothes.
C. Orlando is a TV Fanatic Staff Writer. Follow her on Twitter.