It was the season finale of Rookie Blue and, wow, "God's Good Grace" sure shook things up at Division 15.
Was anyone else as continually suspicious of new officer Pete as I was? He was just too eager and into everyone's business. Of course, I could've  just been paranoid. He is a rookie after all.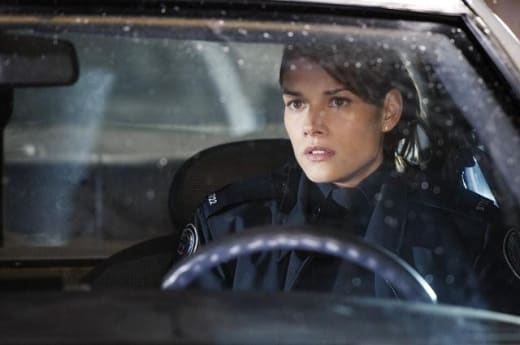 I was really disappointed in Chris when he opened his big mouth and told Pete about Andy's personal business. Although I didn't think he was trying to be mean, I just think there are moments when Chris isn't very bright.
I did appreciate the look Dov shot him, though. I was pretty sure Epstein wanted to give him a smack and, heck, I wouldn't blame him.
It was certainly apropos that Luke was the one to ask who Candace was. Thankfully, Jerry ignored the question until they stepped outside, but Luke looked sucker punched when he told him it was Andy. Hey, he can be upset but it's not like Andy cheated on him. She just moved on.
Gail was back to true form in this episode and I absolutely loved it. How much fun was her conversation with Detective Armstrong? Abrasive, blunt, and straight to the point, that's when Gail really shines.
And did anyone else think Gail was setting her sights on Luke? Now there's a pairing I hadn't considered. Chris was the one who dumped her  Could Luke be a rebound on the way back to Dov or do you think these two have any lasting potential?
Am I the only one who felt like Noelle and Frank were moving way too fast? Didn't they just have a first date? Now it's baby makes three?!? I'm all for seeing them happy, I just felt like we've skipped a couple of steps on the way there.
So much for God's Good Grace. Swarek was getting his ass kicked by Brennan. Nothing like a little makeshift waterboarding to get someone's attention.
As vicious as Brennan was, the stories about his little girl broke my heart. Of course Sam was right. It was his own past that caught up with him and his family paid the price.
I was glad Swarek got his face time with Boyd at the end, but I really wanted to see the dirty detective hauled out in cuffs for covering up a murder and putting Swarek's life on the line. He surely would've pinned it all on Andy if Sam hadn't survived.
It bothered me a little that we didn't get a celebratory hug between Sam and Andy when Sam was rescued but I guess that would have been inappropriate with all of their fellow officers around.
I wish we could have seen Andy at least get in the car with Sam, but him asking her to come and try out being normal with him will have to satisfy me until next summer. To find out what normal means for Sam and Andy, we'll all have to wait and see.
C. Orlando is a TV Fanatic Staff Writer. Follow her on Twitter.