The Greek games may have been the subject of "Let the Games Begin," but the real games were being played with everyone's emotions.
Once again, Naomi stole the spotlight. I don't know what it is about that girl this season but she's on fire. She gets the best lines, the best retorts, the best wardrobe and the best love triangles.
Max may have unwittingly come back because of Holly's dirty tricks, but it seemed that Naomi didn't mind one bit. I liked Max so it was a nice surprise to see him unexpectedly make an appearance. Especially when it caused Naomi to get slimed. And Austin to be bewildered for once.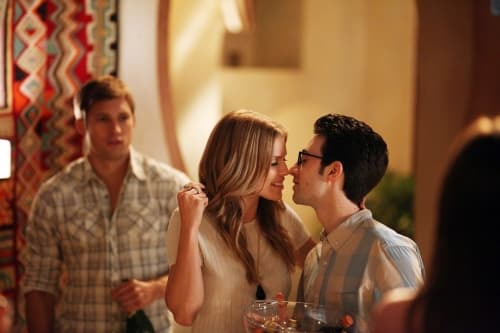 I had wondered if the writers had forgotten about nerdy Max. He'd been such a big part of last season's storyline, so to just write him off and then introduce Austin as Naomi's new conquest seemed lazy. Surprise, surprise.
The reunion scene between Naomi and Max was genuinely sweet. But then again the kitchen scenes with Austin were genuinely smoldering. Can't wait to see how this manage-a-trois heats up.
The Greek games were fun to watch, as was Holly finally getting her comeuppance. All hail Naomi, the new head of the Greek council.
Holly immediately aimed her revenge at Annie, who had foiled her chance at retaining her title. But that's okay because now we'll get to see Annie really start being an adult by turning tricks. Yay!
Elsewhere: Navid, thankfully, got his old hairstyle (and attitude) back. Maybe because Shirazi Studios was finally making money... due, of course, to good old Uncle Amal's illegal car theft ring. But, hey, whatever works.
Dixon didn't want to blow his chance at achieving worldwide fame as a singer/songwriter and once again turned to Austin's ADHD meds. Only it seemed he'd been hitting them pretty hard and needed more. We'll see how good of a performer he is in that studio. I'm betting he'll sound like a tweaked-out turd next week.
By the way, I loved the little nerdy Asian girl with her pill spiel on the beach. Who would have thought such a tiny thing had all the makings of a hardcore dealer?
Ivy and Raj made an appearance together again. I like that Ivy reclaimed her surfer girl status, while Raj showed glimmers of the old tough guy that Ivy fell in love with. Still, this storyline seemed headed for a sad end with the introduction of Nick, the National Geographic freelance photographer.
Silver's horrific commercial for Liam's bar, Offshore, turned out to be spectacularly successful. But this being 90210, would it have turned out any other way?
And Adrianna thought she was being stalked when it turned out that that creepy guy on the pier was Jim, Jane's dead husband. Why hadn't Adrianna seen that picture above the bar before? Whatever. At least Liam won't have to throw another hissy fit because Jane needed to get Jim's life insurance money to survive. Now he'll have to concentrate on Jim not killing him.

Sweet, sweet revenge. How good it feels - but how bad it can really be. For scenes from next week's episode, watch this 90210 promo now!