Things did a lot more than just go bump in the night on "Home Invasion."
Following a premiere that felt like a cluttered mess, one in which Ryan Murphy appeared to be going for confusion over character, the second installment of American Horror Story delivered a compelling narrative, one that gives me hope this series is aiming for more than just loud screams and furrowed brows.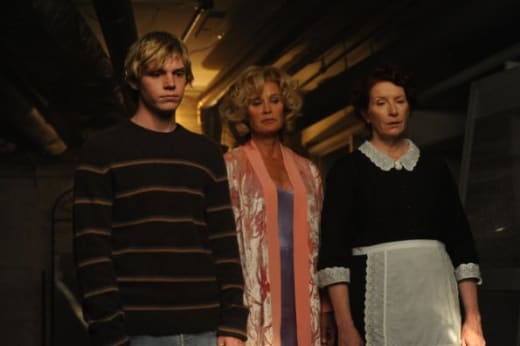 First, we had Ben returning to Boston under the guise of patient care. It felt like a leap for Vivian to dub him a "good man" after all we witnessed and learned on the premiere, but it's clear Ben is trying to be. He legitimately had no idea how to handle his mistress' pregnancy.
Is the right move to simply come clean? Of course. Is it understandable that someone in his situation - as difficult as that might be to imagine - would not want to revisit his affair, especially in light of this new, damaging information, with his family? Absolutely. Does it make sense why he wouldn't have stayed in a hotel room during his trip? No.
But I'm not gonna push it. I very much welcomed this trip away from the house and into Ben's personality.
Back home, meanwhile, the knock at the door and Vivan's subsequent hesitance to let the bleeding woman inside was far scarier than any ghost attack on the pilot. That really is the eeriest situation, isn't it? Something that could actually take place. I just get disoriented with quick camera cuts and/or when random creatures appear on screen. But I get up and make sure my door is locked when the possibility of a home invasion is raised.
Especially when that home invasion is aimed at replicating a previous murder on my property. That was seriously eerie, yet it was also a delightful development because it tied in the past with the present. It will grow very boring very quickly if each opening is meant to prove that this house is haunted. Such a point has already been made.
But if there's a through-line related to the events, as was emphasized when Tate, Constance and the maid stared down at the body in the basement, talked about Tate remaining Ben's patient and made it clear there's some kind of alliance at work here? Then I'm in. Then there's a serial nature to the story that goes far beyond just how weird the show can be.
And that's all I ask for: character development and interesting storytelling that are enhanced by frightening scenes, not defined by them.
I'd also like to see some changes in Constance. She's too over-the-top and her treatment of her Down's Syndrome daughter isn't a reflection on the character right now, as it's meant to be, but on the show itself. It's just in poor taste and seems like an awfully lazy way of making Constance into a mysterious, shady neighbor.
Still, this was a major improvement over the premiere. It was frightening, but also grounded. What did everyone else think?
Matt Richenthal is the Editor in Chief of TV Fanatic. Follow him on Twitter and on Google+.