Welcome to another edition of the Castle Round Table!
In the following Q&A, panelists Jim Garner, Chandel Charles, Courtney Morrison and Christine Orlando delve into "Eye of the Beholder," the latest installment of this TV Fanatic favorite. Join in below, readers...
-------------------------------------------
What was your favorite scene?
Jim: Michael Dorn as Dr. Burke working with Beckett over her feelings for Castle while Castle talks to his mother. The seemless back and forth was very well done. It ending with Burke asking his patient if she was more afraid of Castle waiting for her, or not waiting for her, was the icing on the cake!
Chandel: My favorite scene was Beckett talking with her counselor. It was a very emotional moment for her and it played really well with the interjection of scenes of Martha and Rick talking about Serena. I felt really engaged in the back and forth going on there.
Courtney: Obviously the ending was great with Beckett and Castle heading off to get burgers. But Kate being annoyed and jealous with her snarky one-liners was awesome. I dont know Castle, maybe she'll kiss it out of him. Priceless.
Christine: There were so many it's difficult to nail down, but I loved Kate's reaction to finding them kissing. She really yelled when she saw them. Then the argument she and Castle have afterwards about Serena and his mock chocking her was hysterical.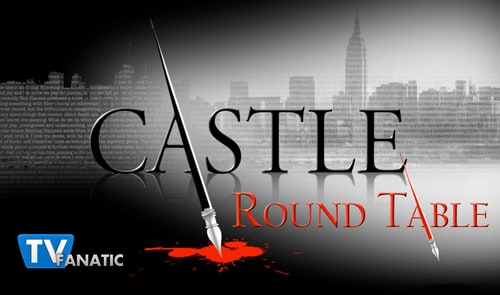 Do you think Martha was right to push Castle to play the field?
Jim: I don't think she was pushing him to play the field as much as get off his ass and do something. Serena was an ideal catalyst for Beckett to realize how much Castle means to her. Martha is no dummy, she was working as a Castle catalyst from the other side.
Chandel: I am not sure what her aim was. She knows how Castle feels about Kate, knows he has professed those feelings and it's obvious he's crazy about her. I am not sure why Martha thought it appropriate to push him elsewhere when it's clear his heart is with Kate. Then again, he didn't seem to reject Serena's advances, so maybe Martha was right to suggest he explore other options.
Courtney: Martha definitely knows that Beckett is right for her son, but she also understands that it is right... right now. You can't wait on someone forever and I think she was correct to give him a nudge to say hey there are other people out there. I mean he is a famous writer, it's not like he's a nobody.
Christine: As much as I didn't like it I understood it. She want to see her son happy and he's moping a bit because he can't be with the woman he loves. Martha's a very seize the moment, love the one your with type. She's simply giving the best advice she knows how to give.
Was Kate giving out mixed signals to Castle and Serena? And is she more afraid that Castle won't wait for her, or that he will?
Jim: There was nothing mixed about the possessive "he's mine" vibe that Serena picked up on. Honestly, I thought she was going to say that very thing to Burke when he asked "what is he suppose to be?" - and she is way more afraid that he won't wait.
Chandel: Yes. She was jealous in his pursuit of Serena, but trying to let Castle do what he thought was best when asked. I'm not sure what she's afraid of. It's clear he is going to help her solve her mother's murder, no matter how complicated that's gotten, and it seemed to me like Castle was telling Kate he was going to wait in the season opener. So I think she was just blindsided when he appeared so attracted to Serena, and she spent the entire episode trying to pay them both back for their attraction. In the end, they did go out for a hamburger. That feels like a good sign.
Courtney: She pushes him away because she's not ready but she doesn't push him far enough that he wont be there for her. I think she is more afraid that he will wait for her because that shows just how much she means to him.
Christine: I think there's still a part of her that, despite everything that's happened, still remembers his playboy, chest signing days. She doesn't know Meredith cheated on him and left him. I think that as beautiful and smart as Kate is, she thinks she's broken and that the moment she goes all in, she'll get the rug pulled out from under her like she did at the end of season two. It's something these two will have to talk about, eventually.
Is Esposito a Castle/Beckett shipper?
Jim: Oh yeah! This isn't the first time he has poked at the edges. The only person who's not a Shipper is that Gestapo Captain, and even then after Serena looked to have embarrassed  the department I think she is a closet shipper.
Chandel: That's a resounding YES. And I think he has been for a while, most notably since season two. Remember how he cornered Kate about Demming in the season two finale?
Courtney: Absolutely, how could he not be?! He is both of their friends and wants them to be happy, I don't think he would mind if it was with each other!
Christine: Yes, but he's still a little protective of Beckett, hence his snarky lines to Castle about kissing Serena. Beckett's like his sister and he feels guilty for pushing her to make a move in season two and having it blow up on her. Thankfully he still seems willing to give these two a nudge when they need it.