Welcome to the 177th Gossip Girl Caption Contest at TV Fanatic, where readers submit their best caption(s) for a photo from the CW drama! Who emerged as the winner this week?
This week's Caption Contest champion iwatchtoomuchtv. Congratulations and well played!
The winning entry appears below. Honorable mentions go out to AmyGirl, Melodia E. McIntyre and Amie. Thanks to everyone for playing and best of luck again next time!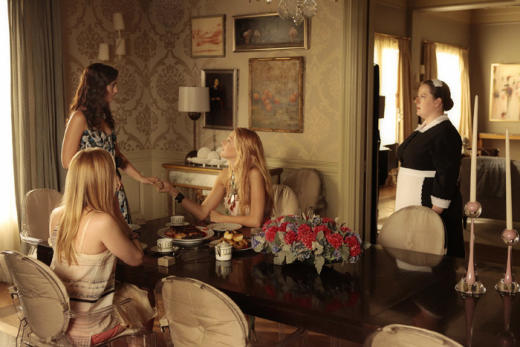 Serena: Can Charlie stay with you? I brought her back without really thinking but you should have seen the place I found Charlie living in, squalor is too nice a word!
Ivy: (to herself) Geez, i wasn't that bad...
Blair: Absolutely not! She got Dan, I can't have her going after Chuck or Louis ... You can have Nate if you want though, Charlie.
Steve Marsi is the Managing Editor of TV Fanatic. Follow him on Google+ or email him here.