Welcome back to the 283rd Grey's Anatomy Caption Contest at TV Fanatic, where readers submit their best caption(s) for a photo from the ABC drama! Who emerged victorious this week?
Your Caption Contest winner is Rachel Helen. Congratulations and well done!
The winning entry appears below. Honorable mentions go out to Ace, jennay and Clara. Thanks to all of you for playing and best of luck again in next week's edition of the contest!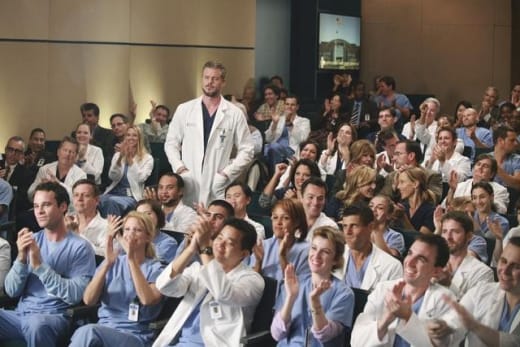 Mark: This is America. Every man has a right to a fully functioning penis. I will not sit here and see this injustice. I am someone who would die defending that freedom. Who is with me? *Everyone Applauds*
Steve Marsi is the Managing Editor of TV Fanatic. Follow him on Google+ or email him here.